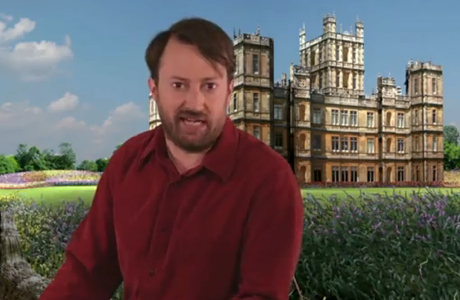 It was bad enough when Sherlock's Benedict Cumberbatch dissed the second season of Downton Abbey. Now, David Mitchell, a British comedian and BAFTA-winning actor (BBC's That Mitchell and Webb Look and Channel 4's Peep Show) is piling on, verbally eviscerating Season 2 in his weekly David Mitchell's Soapbox video series.
Mitchell released his down-with-Downton video just in time for the start of Season 3 of the popular period drama in the U.K. last Sunday. (The new season of Downton will begin airing in the U.S. on January 6 on PBS.)
In the video, Mitchell forecasts that Season 3, coming on the heels of what he calls a "horrendous" Season 2, will just be "an animated turd balancing on a Tesco logo screaming, 'Why?'"
He is particularly savage about the quality of the writing in the show's second season. "It went completely nuts. It started hemorrhaging history," he complains.
Here's his full rant:
———————————–
Do you think David Mitchell is right or wrong about Downton's second season?
———————————–
Read More
Filed Under: