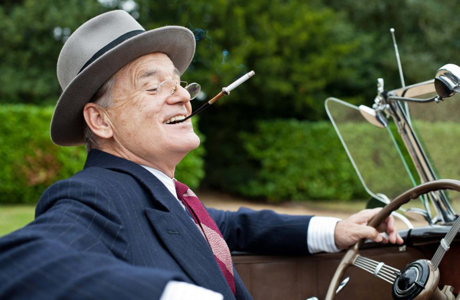 The new 1930s period film Hyde Park on Hudson, featuring King George VI, will be screened at the New York Film Festival this weekend amid talk that it is this season's The King's Speech.
The two pictures do share common characteristics: the same British King and Queen, a cast that includes several British actors, and a British director.
But the stories are quite different. The focus in Hyde Park on Hudson is on President Franklin D. Roosevelt, played by Bill Murray, and the events that take place in his upstate New York household one weekend in June 1939 when the British King and Queen come to visit. (Watch our interview with Murray below.)
The royal couple, played by Samuel West and Olivia Colman, was on a mission to persuade Roosevelt to support Britain in its looming conflict with Germany. Roosevelt was on their side but needed to win over a reluctant isolationist American public that wasn't wildly enthusiastic about coming to Britain's aid.
As the film shows it the President devised a public relations stunt that he thought would convince the American public that the King was a man of the people and deserving of their support. It involved a hot dog.
As Bill Murray explains: "They said we're going to have a picnic – and we're going to serve you a hot dog. When the King of England bit that hot dog, and all the flash bulbs went off and the great headline in The New York Times said 'King of England Eats Hot Dog, Asks for Another,' and that went all over the United States, and people just went, 'Hey, the guy eats a hot dog. He's all right.'
The film also stars Laura Linney, who plays Roosevelt's close confidante Daisy Suckley, and Olivia Williams as Eleanor Roosevelt. It's directed by Roger Michell (Notting Hill).
Read More
Filed Under: