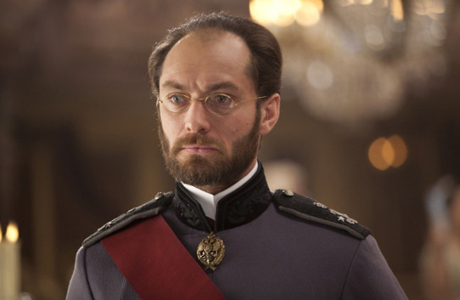 In Anna Karenina, which has just premiered at the Toronto Film Festival, Jude Law acquits himself very well. However, on this occasion he's not playing the dashing young lover but the older man.
With Keira Knightley in the title role, Law plays Anna Karenina's husband, a starchy government official.
Jude Law, who turns 40 in December, is aware of the passage of time and how it's going to affect the parts he gets.
He takes an optimistic view of the older roles he'll be playing in the future.
He says: "In your forties suddenly you have a liberation of sorts. The parts get more complex — as indeed life does — and you're maybe just looked at as an actor, and that's all I've ever wanted."
Over the years, the press has often labeled Law as the golden boy, sometimes giving more attention to his heartthrob status than to his acting.
The actor concedes navigating a career when you're younger can be tough. He says, "The twenties and thirties for actors are a bit of a minefield. The tags that are put on you, people want to compartmentalize you."
But Law doesn't just want to play older plainer types from now on.
"There's nothing wrong with playing 40-year-olds who're attractive and caddish," he says.
Read More
Filed Under: