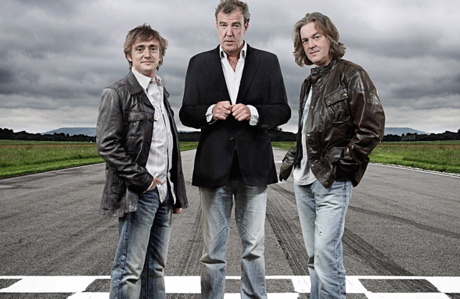 That's right, just like the headline said: More people watch Top Gear than any other factual show in the world.
That's IN THE WORLD.
We know it's true because it's in the 2013 Guinness Book of World Records.
And Jeremy Clarkson even got a plaque to prove it.
As he accepted the award, Clarkson said, "I am very proud to be involved in such a factual program." (via TopGear.com)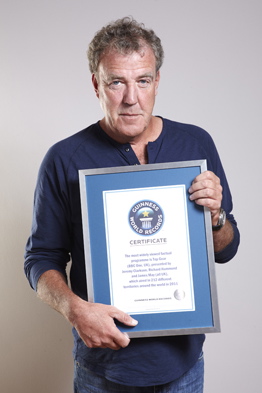 • But the Guinness world record isn't the only major recognition Top Gear has received for being factual this week. TV Choice readers gave the show its "Best Factual Entertainment Show" award. And executive producer Andy Wilman, never at a loss for words, had a whole lot of them to describe his reaction: "Without doubt this achievement is the very of the tip of the absolute peak of the crowning pinnacle of a glorious Summer for British endeavor. I mean, fair enough our Olympians and Tour de France cyclists and Andy Murray have put on a good show, but this is where it's at." (via Top Gear UK)
• So you know that the Hamster's been crisscrossing our country to put together, for his personal edification and your viewing pleasure, season two of Richard Hammond's Crash Course. And you might also know in this second season Richard's tried his hand at being a stuntman and a cab driver, among other professions. But did you know that the premiere of the second season now has an airdate – October 22 – and an airtime – 10pm/9c? 
• Richard Hammond isn't the only person in the Top Gear orbit who spent some time in the U.S. recently. Top Gear magazine writer Sam Philip, accompanied by photographer Webb Bland, put together a report about a whirlwind five-day, 3,300-mile trip across America in a bright yellow-orange Ford Focus.
 "By shunning interstates and sticking to state highways and back roads," writes Philip, "perhaps we could find the true America, the land that freeways forgot, and give the new Focus ST a thorough workout at the same time."
You can read his whole story and see Bland's photographs here, but it won't spoil anything to tell you that he thought highly of both his car and our country.
Of the Focus, he writes: "For my money, it's the best hot hatch on sale today. In fact, it might be the best do-everything fast car in the world."
Of the trip, he says this: "As for crossing America without using interstates, I can't recommend it enough. Honestly. You feel, see, even smell the landscape changing around you, sense the subtle shifts from state to state far more acutely than if you blasted through on the interstate. Locals accost you and buy you breakfast."
But he did have some words of advice for anyone attempting the trip.
"If you want to give it a shot, I would advise this: give yourself more than five days, watch out for cops, avoid the jerky and do anything – anything – you can to avoid Kansas."
Here's a time-lapse photographic summary of the trip:
Read More
Filed Under: