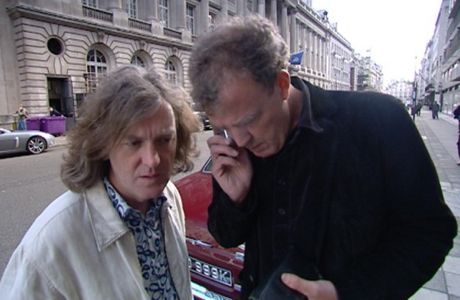 We wuz robbed, Jeremy Clarkson and James May said (more or less).
While the duo were filming for Top Gear in the Yorkshire town of Whitby recently, someone stole Clarkson's cigarettes, a pack of his beloved Marlboros, out of his car.
Last week, the thief came forward and revealed his identity and the motive for the crime. He's 59-year-old Joe Chayter, but, as he told the Whitby Gazette, his friends now call him "the Cig."
Here's what happened: Chayter was out for a walk when he happened upon Clarkson and James May getting take-out (or, if you're British, "take-away") at a local fish and chips store called Mr. Chips. Chayter watched as Clarkson went into the restaurant to order, while May stayed outside and got progressively more worried that Jezza had forgotten to get napkins. Finally, the tension got to May, who jumped out of the car and ran into the store. But he left the motor running.
"I thought. 'I'm going to take this car for a spin just to frighten them,'" said Chayter, who apparently does this kind of thing pretty often. It turns out that he's a senior technician at a Land Rover and Jaguar dealership. He says that when his customers leave their cars running, his colleagues often move those cars to teach people about car theft.
He said he got in the car, sat there for "only a couple of seconds" and then spied the cigarettes, which he decided to take.
When Clarkson and May got back to the car, they immediately noticed the loss of the smokes and sprang into action: Clarkson sent out an APB on Twitter: "Policemen of Whitby. Someone broke into our car and stole our cigarettes. Clue: they're the only people in town smoking Marlboros."
A tweeter shot back: "You just got some free health care!"
Chayter insists that it was just a practical joke with a message. He returned the pack of Marlboros to Top Gear's offices, along with a Jaguar magazine and a postcard that read: "Which donkey left the keys in the car?"
According to the Whitby Gazette, Chayter says that his daughters believe he's having a mid-life crisis.
• The Whitby Gazette's gotten a lot of mileage out of Top Gear's visit. Before Joe "The Cig" Chayter revealed himself, the paper ran a highly amusing story about how some of its journalists tracked down Clarkson and May via a "game of Twitter cat and mouse" and offered them consolation packs of Marlboros to get some quality media access. (They seem to have learned from the experience of The Northern Echo, whose reporters had previously practiced their own brand of checkbook journalism by giving the boys free fish and chips.)
The Gazette's tactics worked.
"Jeremy said he still always has time for local newspapers – not so much the nationals and glossy magazines these days – as that is where he started his career as a cub reporter on the Rotherham Advertiser," wrote the newspaper.
Jezza and Captain Slow posed reading a local Whitby paper, with the headline "Town wants its harbour back" on the front page.
"They leaned in," wrote the Gazette, "and informed us that the harbor was not in fact missing and they had seen it just that morning."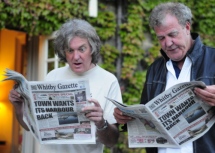 • Richard Hammond wasn't with Jeremy and James in Whitby. Probably because he spent so much of his summer here in the U.S. working on the second season of Richard Hammond's Crash Course. You'll get to see the result when it premieres on October 22, 10pm/9c. For now, you'll have to make do with photos from our online gallery.
Read More
Filed Under: