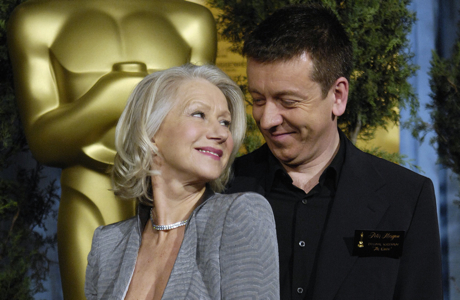 Helen Mirren knows that it's good to be Queen.
The British actress is donning her royal crown again. She will reprise her role as England's Queen Elizabeth II, this time on stage, in a new play called The Audience on London's West End.
There had been talk earlier this summer that Mirren, who played Elizabeth in The Queen (2006), would tread the boards in a new iteration of the regal role. Now it's official. The show begins performance Feb. 15, according to a story that first appeared on The Daily Mail's web site.
Audience will mark a royal reunion for Dame Helen, 67, and its author, Peter Morgan. The playwright previously scripted The Queen, for which Mirren won an Oscar as Best Actress for her moving portrayal of the current monarch in the days immediately following Princess Diana's death in 1997.
http://www.youtube.com/watch?v=dxXj8gf40uk
Morgan's latest fiction-based-on-fact drama is broader in scope. It depicts the Queen in conversation with a dozen prime ministers over the course of her 60-year reign.
"I think it's about what power means and how people handle it. Not the Queen, incidentally, because she is comparatively powerless. But how power is held in the hands of these men — and one woman — and the effect that has on their personalities and their psyche," Mirren told Mail entertainment columnist Baz Bamigboye.
British director Stephen Daldry (The Hours and The Reader), who most recently produced the dazzling ceremonies at the Olympics and Paralympics in London, will stage the production. Mirren said she was initially reluctant to step back into Elizabeth's pumps, feeling that she had already been there, done that. She changed her mind after reading an early draft of Audience in June in front of Morgan, Daldry and the show's producers in London.
"I thought: 'Here are some of the best people at what they do in the world. If you don't do it, you're an absolute idiot!' So here we go again," she said.
The show will be performed through at least mid-June at the 889-seat Gielgud Theatre on London's Shaftsbury Ave. Tickets, expected to be in high demand, will be priced between £10 and £85 ($16.25 to $138).
There's no word yet on if and when the show will transfer to Broadway or elsewhere in the U.S.
———————————-
Would you consider traveling to London to see Helen Mirren on stage as Queen Elizabeth II?
———————————-
Read More
Filed Under: