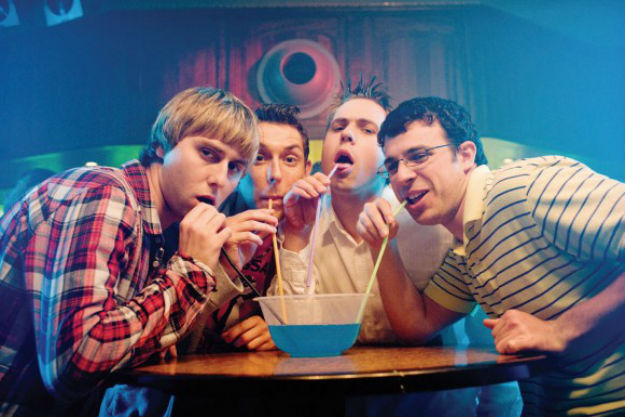 American fans had to wait over a year to see The Inbetweeners Movie, the motion picture based on the risqué British teen sitcom. Back in its August 2011 release in Britain, the film was a box-office behemoth, becoming the biggest-grossing comedy ever in the UK. Now stateside viewers finally get to see what all of the fuss was about, as The Inbetweeners Movie is in U.S. theaters starting this weekend (September 7).
In America, where the show has been seen both on BBC AMERICA and Hulu, an impassioned cult audience has followed the cringeworthy antics of four swearing, sex-obsessed British teenagers through the sitcom's three-season run. The film picks up after the series finale, with the young men now 18 and off on a boozy lads' holiday in Greece. If you've seen an American Pie movie or any U.S. teen comedy, you have an idea about where this is going.
Writer-creators Damon Beesley and Iain Morris are unapologetic in their embrace of their film's American antecedents, including the aforementioned comedy in which a pastry gets penetrated. (In the Inbetweeners Movie, another edible item, ham, is used as a means of sexual gratification.)
"American Pie is definitely one that influenced us," says Morris, "because I think it's got these great gross out moments, but also it's an incredible character study. It's an interesting study about four friends going through different things but at the same time in their lives."
Simon Bird, who plays the sardonic resident nerd Will McKenzie, argues that the Inbetweeners Movie is "an innately American film," adding that "It's based on an American genre, which is that raunchy teen comedy. There's a sense that we've kind of stolen that idea and made it our own in Britain, and we feel sort of like we've been caught red-handed, bringing to back to America. Hopefully Americans will see that we've done something new and that… and will appreciate that it's our own original take on that idea."
Beesley and Morris cited an unlikely, more adult influence on their film – the 1996 Vince Vaughn/Jon Favreau male bonding comedy Swingers. "It was one of the first films we'd seen about how men communicate with other men and what male friendships are like," says Morris.
"The use of language amongst a group of friends had an impact on people who saw that movie in the UK," says Beesley. "Things being 'so money.' You know that really bled into popular culture at the time and the way people were speaking." Beesley and Morris wanted to highlight the "very tight linguistic relationship between friends" through the local British slang in The Inbetweeners Movie. "These guys have their own shared terms and they don't speak necessarily like all teenagers in the country," says Beesley.
Viewers might blush at the frequent use of the terms "fanny" and "gash" to denote a part of a female anatomy. "I'd hope and I assume that Americans will find something funny in the fact that we're saying all this rude, offensive stuff but in our prim and proper British accents," says Bird. "I lived in America for a bit and my experience was there's nothing Americans love more than British people swearing. So hopefully that'll work a treat."
But as Bird adds, "On a sort of deeper level I think British comedy tends to be rougher around the edges, grimmer and a little bit ruder and a little bit bleaker. We make the characters slightly less attractive and less witty. And I hope that makes it funnier because it makes it more realistic. That's the aim, at least."
Have you seen The Inbetweeners Movie? Tell us below:
Read More
Filed Under: