Santa Monica, California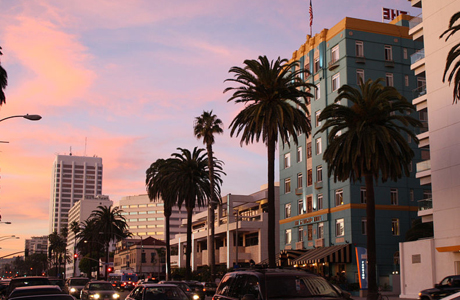 The angry red suntans are an unmistakable sign that Santa Monica is Brit-by-the-sea, although it is usually the holidaymakers who have to slap on the Factor 50 because they are not used to the heat. When they make the obligatory pilgrimage to the King's Head pub, they find themselves competing with the resident Brits for a foaming pint of not-cold beer.
Around 5,000 British migrants are reckoned to live in Santa Monica. While the high-flown Christopher Isherwood and W.H. Auden were among the early settlers, nowadays it attracts the media and showbiz crowd looking for a convenient base from which to attack Hollywood.
Several stores sell British biscuits, Frank Cooper marmalade and Cadbury's Fruit 'n' Nut bars, but it is possible to escape the Union Flags and stroll by the U.S. bars and bookshops on the Third Street Promenade.
But if you want to catch the serious local Brits at play, get to one of the British pubs at 5 o'clock in the morning on a winter weekend. That's when they'll be cheering on their favorite soccer teams in a match beamed live from the U.K.
NEXT: San Francisco, California
Read More
Filed Under: