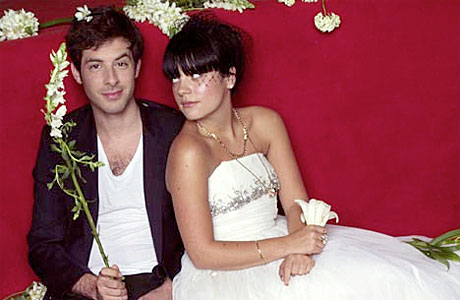 For no other reason than it's his 37th birthday, and he's just as London as he is New York (and therefore the perfect model of Anglophenian man) here's a brief tapdance across Mark Ronson's illustrious (and very collaborative) career to date:
"Slow Down Baby" – Christina Aguilera
It's funny to think that Mark worked on two albums of jazz and soul influenced pop music, both boasting titles that begin "Back To…" within the same year. Here's his songwriting contribution to Christina Aguilera's "Back To Basics," from 2006: an album to which he also contributed keyboards, bass, guitar and production work.
"Valerie" – Mark Ronson ft. Amy Winehouse
It could just as easily have been "Rehab," of course, or "Love Is A Losing Game" but this came out of the sessions for Mark's breakthrough album "Version," in which famous indie-type songs were given the soul and trumpets makeover. Amy had recorded a version of the song for a session on BBC Radio 1's Jo Whiley show, after taping a slow version during the sessions for "Back To Black" the album. This is the hit though, coming across like a sapphic Supremes.
"Cold Shoulder" – Adele
For the most part, you can spot this is a Ronson production from a mile off. It's got those Motown clicky bits, the prominent funky drummer, and the stormy string arrangement. But what the hell is that trippy middle-8 all about?
"Littlest Things" – Lily Allen
The cutest song on Lily's debut album "Alright, Still" and her only Ronson co-write. A delightfully retro song about looking back over a relationship gone sour.
"Bang Bang Bang" – Mark Ronson and the Business Intnl ft. MNDR & Q-Tip
C'mon, this is all the awesome in the box. And for once the sound is more Van Halen (circa "Jump") than the Marvelettes, which is a nice change.
What's your favourite Ronson moment?
Read More
Filed Under: