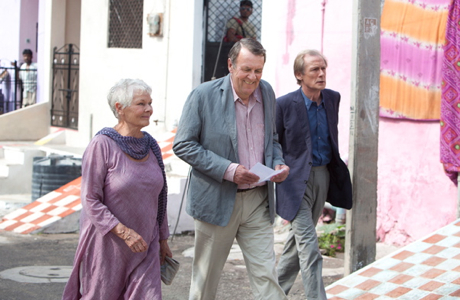 With Labor Day upon us, the summer movie season is officially over. It will soon be safe for serious moviegoers to go back into theaters without fearing that every single movie will feature comic book heroes, robots or Adam Sandler.
It was a summer of woe for Hollywood, with moviegoers failing to get all that excited about much of what was offered, other than the few runaway hits: The Avengers, Ted and The Dark Knight Rises. As of this last weekend of summer, box office receipts for the May through August season are running 5 percent behind last year's number, according to Hollywood.com.
How did British films and stars born under the Union Jack fare at the multiplex this summer? Results were mixed, with a few surprises landing in the winner's column and ditto for losers.
Here's Anglophenia's UK-centric list of the Top Five Movie Winners and Losers for Summer 2012:
THE WINNERS:
The Dark Knight Rises
As expected, the final film in British director-screenwriter Christopher Nolan's Batman trilogy was a big kahuna at the box office, raking in $425 million so far. Its Brit-saturated cast included big names Christian Bale, who was taking his final bow as the Caped Crusader, plus Michael Caine, Gary Oldman and Tom Hardy.
The Best Exotic Marigold Hotel
Who would have predicted that a peppy little comedy about a bunch of retired British geezers who head over to India to spend their final days in a dilapidated hotel would end up turning into an art house hit, grossing $46 million in U.S. receipts? Featuring a solid gold cast of senior Brits, stars included Dames Maggie Smith and Judi Dench, Penelope Wilton, Celia Imrie, Tom Wilkinson and Bill Nighy.  Holding his own with all this older talent was the youthful Dev Patel, who showed that he's more than a one-hit wonder from Slumdog Millionaire.
Snow White and the Huntsman
This fairy tale-cum-action film, which was successful enough at the box office that a sequel is planned, was stuffed to bursting with British talent in supporting roles, including dashing Sam Claflin, Ian McShane, Bob Hoskins (in one of his last roles prior to his recently announced retirement), Ray Winstone, Nick Frost, Eddie Marsan and Toby Jones.
The Amazing Spider-Man
Fast rising Anglo-American star Andrew Garfield proved himself an able web slinger as Peter Parker in a successful reboot of the Spidey franchise. Welshman Rhys Ifans had fun transforming from a one-armed scientist into a giant, marauding lizard as the movie's villain. Who says there's not new life in the franchise yet? This Spider-Man caught $258 million in its web.
Magic Mike
The British angle to a movie about a bunch of hunky guys who take their clothes off for half-drunken women at a strip club in Florida? Alex Pettyfer, of course. Playing a newbie male stripper, the much ballyhooed young British actor finally scored a hit in a movie that saw him front and center and nearly nude. Mike, which also starred the USDA 100 percent prime beef Channing Tatum and Matthew McConaughey, grossed $113 million  at the box office.
THE LOSERS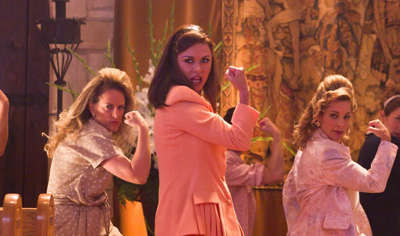 Dark Shadows
This high profile attempt by director Tim Burton and star Johnny Depp to make a movie version of the late 60s daytime soap opera about a long-lived vampire was about as popular with moviegoers as having their blood sucked. Barely managing to survive all the carnage were British costars Helena Bonham Carter and Jonny Lee Miller.
The Dictator
Cambridge-graduate Sacha Baron Cohen failed to put one over on audiences with his latest comedy, about the misadventures in New York City of the ruler of a fictitious Arab country. The movie managed to collect only $60 million at the box office, on par with his earlier Brüno, but less than half what Borat raked in.
360
This prestige film, directed by Brazilian Fernando Meirelles (The Constant Gardner) and written by London-born Peter Morgan (The Queen and Frost/Nixon), fizzled at the box office, opening in only a few cities and managing to eke out a puny $77,100.  Stranded in this modern day adaptation of Arthur Schnitzler's classic play, La Ronde, were Rachel Weisz, Jude Law and Sir Anthony Hopkins.
Rock of Ages
Tom Cruise in leather pants and with his shirt off, along with the chance to see Wales' own Catherine Zeta-Jones and English comic Russell Brand prance about singing '80s heavy metal songs, wasn't enough to convince moviegoers to plunk down their cash to see a film version of this Broadway musical. The film collected just $38.5 million at the box office.
Robert Pattinson
That's the name of a star, not a movie. The English dreamboat had a really bummer summer. Not only did Kristen Stewart, his longtime girlfriend and Twilight costar, two-time him with Brit Rupert Sanders, her director on Snow White and the Huntsman, but R-Patz's two indie releases, Bel Ami and Cosmopolis, failed to light any major fires at the box office. Don't spend too much effort worrying about him, though. The next (and final) chapter of Twilight opens Nov. 16 and is sure to break its own box office records.
———————————
What was your favorite summer movie? Least favorite?
———————————
Read More
Filed Under: