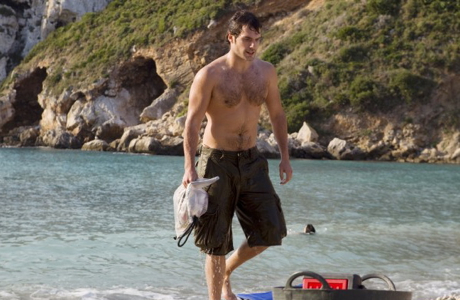 Brit hunk Henry Cavill, who dons the superhero's cape in next summer's highly anticipated Superman reboot, Man of Steel, gets an early box office test this coming weekend when his latest movie, The Cold Light of Day, opens.
Don't expect much. The studio, Summit Entertainment, is slipping this action thriller into U.S. theaters without screening it for critics ahead of time, never a promising sign.
There's good reason to assume that American critics will not be kind. When the movie opened last April in Great Britain, movie reviewers there reached for their thesauruses to dig out synonyms for "stinker" and "lousy." The Telegraph dismissed the film as "tatty shenanigans" and described Cavill as "frazzled and wooden"; TimeOut London called Cold Light a "cheerfully preposterous chase movie"; and Variety weighed in with, "the film's plot lacks credibility at many levels, and its mechanics are barely supported by character motivation."
Cavill, best known for playing Charles Brandon on Showtime's The Tudors and for running around in a toga in last year's The Immortals, plays an American businessman in Cold Light who heads to Spain for a sailing vacation with his father (Bruce Willis) and the rest of his family. Dad and the others soon go missing, and it's up to Sonny Boy to figure out who took them and why, and try to effect a rescue. Sigourney Weaver co-stars, and the movie was directed by Frenchman Mabrouk El Mechri, whose best-known previous film was 2008's JCVD.
Here's a trailer (warning, it contains several spoilers):
http://www.youtube.com/watch?v=GZILiuEFCKk
———————————
Do you plan to see Cavill in The Cold Light of Day?
———————————
Read More
Filed Under: