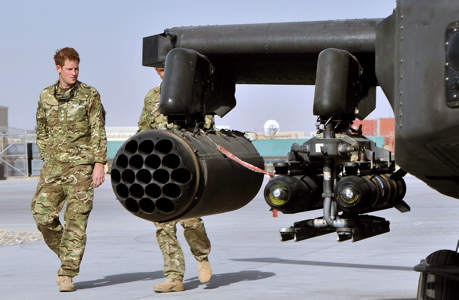 Prince Harry has arrived back in Afghanistan for a four-month tour of duty as a weapons operator on an Apache attack helicopter.
The Associated Press reports that over the weekend the prince has already completed the first phase of ten days of on-the-ground training before he starts flying on actual missions.
Unlike Harry's previous deployment in the war-torn country in 2007 and 2008, which was under a media blackout – and which ended when the secrecy was broken – his current mission was announced by Britain's Ministry of Defence, along with news reports, photos and video.
This deployment comes just two weeks after a scandal in which the Prince was photographed naked after a game of strip billiards.
"Prince Harry's deployment may come as a timely distraction from his misadventures in a Las Vegas hotel room, but it has been months in the planning," says BBC News' Quentin Sommerville in Afghanistan.
"Looking relaxed if slightly tired, Harry gave a thumbs-up," reported the Associated Press after the Prince gave an Apache helicopter the once-over at Britain's Camp Bastion in southern Afghanistan, where he will be stationed. Harry will serve as both a co-pilot and a gunner and will operate the Apache's rockets, Hellfire laser-guided missiles and machine gun.
In other news related to Prince Harry's deployment in Afghanistan:
• Harry's last deployment to Afghanistan was cut short in 2008, after just ten weeks, when an Australian news outlet reported his presence in the country. British officials decided that it was too dangerous for the prince to remain and that as a ground soldier, he would be a prize target for the Taliban and would also increase the dangers for those serving near him.
At the time, Harry joked about his nickname being "the bullet magnet." But he was said to be extremely frustrated at being withdrawn, and has also publicly expressed a concern that his extensive training would be for nothing if he couldn't return to active duty.
"I'd just be taking up a spare place for somebody else if they didn't have me going out on the job, " he said this past April.
The prince's current deployment, said Britain's Ministry of Defence, is very different from his earlier mission.  As a helicopter pilot, the risks are much lower. So far, not a single Apache has been taken down by enemy fire. Fort Bastion is also considered a relatively safe military base.
• Still, Harry's in an actual shooting war (the first royal to fight in a battle zone since Prince Andrew flew in the Falklands in 1982), and, as the Telegraph points out, he's in a unit that has the highest "kill rate" in the war, "currently averaging around two Taliban killed every week."
One defense source cited by the Telegraph said: "Killing insurgents is what the machine Prince Harry flies is there for; you cannot put it any other way."
And Harry's spokesman says that killing Taliban fighters is "not an issue at all" for the prince, adding: "He is a soldier, so soldiers do what they are required to do."
• This time Britain's defense ministry opted not to try to keep Harry's mission a secret and began discussions with editors and media executives earlier this year about how to manage the press coverage.
Harry traveled from England with a pool reporter and photographer from the UK's Press Association and they'll essentially be embedded with him through his tour. The BBC in Kabul will provide pool video coverage.
Bob Satchwell of the Society of Editors said that, so far, everything's worked just fine.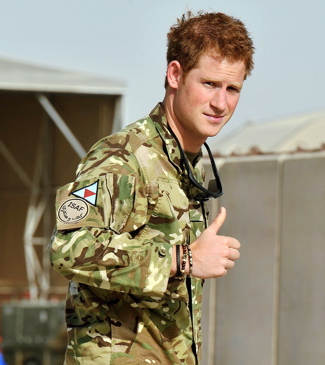 The Society worked to coordinate press arrangements, and Satchwell told BBC News: "The details were not reported even when the row broke about the Las Vegas naked Prince pictures. It would have been so easy to say he was partying before flying out to war, but the secret was kept until the time agreed."
The BBC's royal correspondent Nicholas Witchell says the news is likely to change views of the Vegas photos.
"Perhaps that explains why he was just a little bit too carefree on that occasion, his final foreign outing before he knew that he was off to Afghanistan," Witchell said.
• Prince Harry reportedly said goodbye to his father, Prince Charles, at Balmoral during Britain's bank holiday weekend at the end of August. Royal sources say that Charles is "immensely proud of his son."
Harry reportedly said goodbye to his brother, Prince William, earlier this week at Kensington Palace, where they both live.
One source, according to the Telegraph, says the two joke about each other's helicopter assignments.
"Prince Harry tells Prince William he is flying a washing machine, because the Sea King is such an old, reliable workhorse," the source is cited as saying, "and William tells Harry he is flying a computer game because the Apache is so sleek, fast and advanced."
Read More
Filed Under: