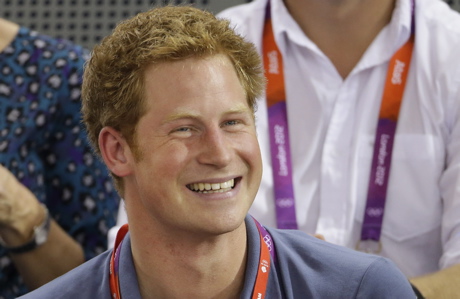 St. James's Palace today said that it would not take any action with the Press Complaints Division, Britain's official media watchdog group, against a British tabloid over its publication of the naked photos of Prince Harry in Las Vegas last month.
The Sun printed the pictures after they were posted by gossip site TMZ and then available online all over the world.
"It would not be prudent to pursue the matter further," a palace spokeswoman said, according to BBC News.
The prince is "focused entirely on his deployment in Afghanistan," she said, adding that pursuing a complaint "would prove to be a distraction."
• "Duchess Kate is a tough cookie," proclaims one royal correspondent's blog after the way she weathered her naked photo scandal.
The Daily Express's Richard Palmer writes that the Duchess has emerged "with her reputation enhanced amongst the royal press pack."
Speaking to Kelly Lynch of Socialite Life's Duchess Diary, Palmer said, "we've seen a new side to Kate."
"I think we'd suspected this for a while, but you see much more evidence now that she's the steely one in this relationship," Palmer said.
"For people who've grown up inside the royal family, their natural reaction is maybe to dissolve into anger, fluster and then want their flunkies to do something about it," he told Lynch. "She's not grown up in that environment, she's grown up in an environment where maybe you deal with it yourself."
Watch the full interview:
• On a lighter note, the Duchess Diary takes a look at the week in royal-related fashion:
• Finally, a former Bond girl says producers of the next 007 movie don't need to look any further than Kensington Palace for the next Bond beauty.
"Kate would be perfect as the modern Bond girl," said Britt Ekland, 69, who appeared in The Man With the Golden Gun. "They should sign her up."
"A Bond girl has to be a superwoman," said Ekland told the Mirror during an event marking 007's 50th anniversary. "The Duchess of Cambridge would be perfect – she has a presence, is strong and feminine."
Read More
Filed Under: