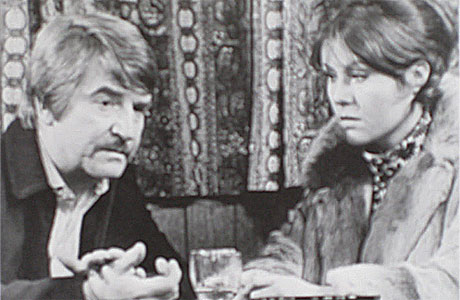 Let's start with an optical illusion. Watch this trailer for the 1965 Gerry and the Pacemakers movie (I know, I didn't realise there was a Gerry and the Pacemakers movie either) Ferry Cross The Mersey. Now watch it again looking for a young Elisabeth Sladen, who is apparently in there somewhere. Hard not to see that face in every frame, once you start looking, isn't it? Particularly around the 21 seconds mark:
Here's how she really looked in the film:
We next come across our heroine in 1970, during six episodes of Coronation Street, the longest-running soap in the world, as this report from the Corrie team, at the time of her death shows:
http://youtu.be/qQQ56FzjZAs
although sadly the video evidence is scarce. Luckily a photo has emerged (see above). The following year there were parts in Z Cars, which lead to other casting opportunities, as this little snippet illustrates:
In 1972 she played a put-upon policewoman in an episode of the drama Public Eye, called Many A Slip:
Here she is in the 1973 comedy Some Mother's Do 'Ave 'Em:
And back in the policewoman's uniform for Special Branch. And it was at this point that she was recruited by the BBC to take over from the departing Katy Manning as assistant to the Third Doctor. And lo! Sarah Jane Smith was born.
We pick up the Sladen career in 1976, in the risque drama Send In The Girls:
http://youtu.be/N3rdGoibt6c
Then there was Take My Wife, a stab at comedy which only lasted six episodes, and of those, only this fragment is online. So you can at least see that the problem was not Elisabeth and her ability to make the bed:
We next see our heroine in Silver Dream Racer, a 1980 movie about motorbike racing:
That same year, there was the BBC Play For Today called Name For The Day:
AND a more successful comedy cameo in the long-running In Loving Memory:
Now here's a thing: a 1981 TV production called Gulliver In Lilliput, based on Gulliver's Travels in which Elisabeth plays Lady Flimnap:
And that's not even the maddest costume we could fine. Try this version of Alice In Wonderland, and take a close look at the Dormouse. And here's Lis in Dempsey and Makepeace, her first role after the birth of her daughter, and her last for a while, as she resolved to slow down her career:
There was a cameo in the police drama The Bill, from 1989, and in 1994 she could be found whooshing around in a commercial for the BBC's Good Food magazine:
Oh, and larking about in another comedy show, Men of the World with John Simm. Yes THAT John Simm:
Here she is in Peak Practice:
And after that, she was Sarah Jane Smith again, in Doctor Who and The Sarah Jane Adventures, until her death in April of last year. But let's not linger on the tragic end, how about one more clip? I'm not entirely sure what this is all about, but it's to do with math:
Next: A Classic Companions Compendium.
Read More
Filed Under: