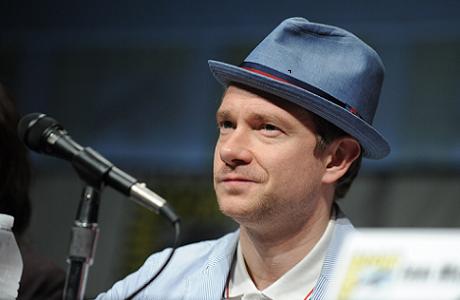 Martin Freeman, BAFTA winner in the Best Supporting Actor category for his role in BBC's Sherlock, has mastered the modern day sidekick playing opposite Benedict Cumberbatch. He and Cumberbatch have both received 2012 Emmy nominations for their respective categories, which will be announced on Sunday, September 23. 
Prior to joining the detective series, Freeman felt typecast as the lovelorn pushover as seen in Love Actually and Ricky Gervais's The Office but after appearing in over 20 films, and a variety of TV programs, he was bound to act his way out of any one stereotype.
And where has he landed current day? Oh, you know, this movie filmed in New Zealand that you may have heard of … The Hobbit. Alright, alright, we jest. This is obviously one of the biggest and much awaited films of the year, and to some, ever (!!). But, according to reports, it almost didn't happen with Freeman initially turning down the Bilbo Baggins role because it overlapped with the production of Sherlock.
It must have been a gutting decision but it's not too surprising when reading about how Freeman chooses his work, telling Reader's Digest NZ, "I always ask myself, 'How honest are you being taking this job?' On my deathbed, I want to know I've done the right thing, so I turn down a lot. Life's too short to do crap. The things I'm proudest of haven't been widely seen, such as The Robinsons and Nightwatching."
Well, it's neither here nor there at this point. The filming of The Hobbit: An Unexpected Journey is complete — with the official trailer released on September 19 — and Freeman can sleep easy knowing he did right by Sherlock.
We've put together a sampling of his work courtesy of YouTube.
2012, The Hobbit: An Unexpected Journey

2009, Nativity

2009, Boy Meets Girl

2007, Hot Fuzz

2007, Nightwatching

2005, The Robinsons

2005, The Hitchhiker's Guide to the Galaxy

2004, Call Register (Short Film)


2003, Love Actually (Fast forward to 1:13 to see Martin in action)
2002, Ali G Indahouse

2001-2003, The Office

What's your favorite of Martin Freeman's roles … so far?
Read More
Filed Under: