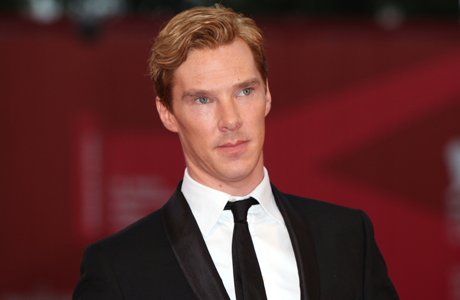 Benedict Cumberbatch is best known as the inquisitive, know-it-all modern day Sherlock Holmes in BBC's original drama Sherlock that airs on PBS in the U.S. He's been a busy beaver, well, maybe "otter" in this case as he's affectionately referred to.
The versatile actor has received multiple BAFTA nominations for his work on Sherlock (two years in a row), Small Island (2009) and Hawking (2005). In just the last year he has won the Broadcasting Press Guild Award and UK Critic's Choice Television Award both for Best Actor in a Movie/Miniseries for his title role in Sherlock. He earned the hunky title of GQ UK Magazine's Actor of the Year. As well, he has broken out in the U.S. being nominated for a 2012 Emmy for Best Actor in Miniseries based on his performance in, you guessed it, Sherlock. The winner will be announced on Sunday, September 23.
It appears Cumberbatch has made a hobby of collecting awards not exclusive to TV. He's been on and off the stage since 2001, most recently performing a dual role in the Danny Boyle-directed Frankenstein sharing the role with fellow Brit Jonny Lee Miller. The actors play opposite each other on stage, taking turns alternating roles between the doctor and his creation. The two men share an Olivier Award and Evening Standard Theater Award for best actor.
His resume is rounded out with performances in critically acclaimed films like Tinker Tailor Soldier Spy, War Horse and Atonement. He plays a villain in J.J. Abrams' forthcoming Star Trek Into Darkness (May 2013) and will be joining his Sherlock castmate Martin Freeman in Peter Jackson's soon-to-be-released film The Hobbit: The Unexpected Journey (December 2012) as the dragon Smaug. It will be exciting to see how he uses motion capture to depict the actions of a Middle-earth reptilian-like role; he's putting in double time performing the voice of Necromancer.
And he's been cast in the film adaptation of August: Osage County, opposite Meryl Streep and Julia Roberts.
While we wait for his upcoming performances, let's take a look at some of his previous work.
2012, The Hobbit: An Unexpected Journey (Cumberbatch discusses his role)

2012, Parade's End

2011, Wreckers

2011, imitating Alan Rickman, David Tennant, and Jonathan Ross on The Jonathan Ross Show
2011, Third Star

2011, War Horse

2011, Tinker Tailor Soldier Spy

2011, Frankenstein

2010, hosting the panel show Have I Got News For You
2010, Van Gogh: Painted with Words

2009, Small Island

2008, The Last Enemy

2007, Stuart: A Life Backwards

2007, Atonement

2006, Amazing Grace
http://www.youtube.com/watch?v=laN6mxNjJPo
2006, Starter for 10 (Fast Forward to 1:50)

2005, Broken News

2005, To the Ends of the Earth (Warning: NSFW!)
2004, Hawking

2003, Fortysomething

2002, Tipping the Velvet

2002, Fields of Gold

What do you think of Benedict Cumberbatch's weighty resume?
Read More
Filed Under: