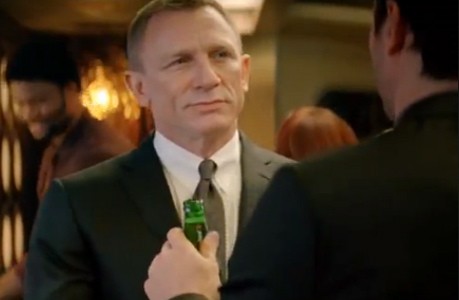 You don't have to shake or stir beer. But that's not the reason you're going to be seeing James Bond drinking a brewski instead of a Stoli in at least one scene in Skyfall.
The real reason is a reported $45 million product placement deal between Heineken and the producers of the new 007 movie, and now a new TV commercial with Daniel Craig is giving fans a first taste of the tie-in deal.
The spot features some footage from the movie itself, Bond girl Berenice Marlohe, and, thanks to special effects, even an appearance by the original Dr. No. There's an extended online version of the spot that features a game.
http://youtu.be/vDXnDKTcIPM
If you're one of the zillions of fans who are scandalized, take it up with Craig himself. Back when the commercial deal was first made public, the actor said that tie-ins are a necessary evil.
"We have relationships with a number of companies so that we can make this movie. The simple fact is that, without them, we couldn't do it," Craig told Moviefone. "It's unfortunate but that's how it is."
Craig said the tie-in is in keeping with 007's character.
"The great thing is that Bond is a drinker, he always has been," said the three-time Bond actor. "It's part of who he is, rightly or wrongly, you can make your own judgment about it. Having a beer is no bad thing, in the movie it just happens to be Heineken."
• One person who apparently remains unconvinced about product placement in Bond movies is George Lazenby, who played 007 in On Her Majesty's Secret Service. It's sad, he reportedly told gossip site TMZ, that filmmakers "go where the money is."
Lazenby took issue with the choice of Heineken as well, saying, "It's not the best beer out there, either."
• There is, of course, a distinction to be made between product placement deals and tie-in ads. For most fans, as far as ads are concerned, the quality of the products being pitched probably takes a backseat to the creativity or humor of the spots themselves. For example, the magazine Ad Age, which called the following commercial by a Paris ad agency "goofy," also seemed to find it endearing, as did we. The ad features an original and creative use of the Bond musical theme. The wittiest single moment involves a signature silver Aston Martin.
• Daniel Craig's current Skyfall commercial is not the first Bond Heineken commercial. The Dutch brewer has been making 007 ads since 1997's Tomorrow Never Dies. Here's the one timed to 2008's Quantum of Solace, which makes buying a Heineken seem like a James Bond adventure – one that even includes Bond girl Olga Kurylenko:
And by the way, if you think that making an ad like that one is easy, you might want to take a look at this behind-the-scenes video:
Casino Royale's Eva Green is another Bond girl who starred in a Heineken commercial, which was made by Syriana director Stephen Gaghan:
For the last Pierce Brosnan Bond film, Die Another Day, Heineken used John Cleese, then playing gadgetmeister Q, in an ad that pokes fun at the technology of the series:
http://youtu.be/nS0t_Q5Het4
Here's a commercial aimed at convincing us that both Bond and Heineken are unique:
http://youtu.be/0fpTiRk8tIA
• One of the reasons the Heineken deal is getting so much attention is the notion that Bond may be exchanging his upscale drinks, like vodka martinis and champagne, for beer, a less rarefied beverage. But Bond's preferences among luxury drinks are also influenced by product placement deals. Dom Pérignon was favored during the Sean Connery and early Roger Moore eras, while a long-term deal with Bollinger has determined Bond's champagne of choice since then. For Quantum of Solace, Bollinger designed a limited edition champagne cooler in the shape of a bullet (for a Walther PPK, no less). It weighed more than 50 pounds and cost €4000 ($5400), and, yes, they made an ad for it.
• Pierce Brosnan, who played Bond in four movies, made appearances in amusing tie-in commercials for Visa. In this one, the Bond girl who demands ID – "a driver's license, a license to kill, that sort of thing" – is none other than Christina Hendricks of Mad Men fame:
http://youtu.be/gN1DXQU-m3w
Here's a commercial that suggests that a Visa card can be as handy as anything from Q's arsenal:
• At the heart of every Bond film is a race against time. Although the nail-biting climaxes are most often represented in the form of a digital clock, frequently attached to a bomb, the analog wristwatches worn by 007, which serve both as timepieces and weapons, are product placement goldmines. Both Daniel Craig and Pierce Brosnan have appeared, via clips from the movies themselves, in ads for Omega watches.
The ad from Die Another Day had special effects that superimposed giant Omega artwork on the Arctic ice during a car chase:
Earlier this year, Omega announced the release of a special 50th anniversary Bond watch:
And several years back, Swatch designed an entire line of watches based on James Bond villains:
• Years before he played Q in the Bond films, John Cleese was selected to do a tie-in ad for Schweppes that was apparently on the VHS release of the Timothy Dalton Bond film License to Kill. Now, it's on the Internet.
• No look at James Bond cross-promotion would be complete without a mention of the mother of all tie-in deals: this summer's opening ceremony for Olympics, in which Daniel Craig, as 007, escorted the Queen to a dramatic helicopter jump into the stadium.
The question here is: just who was shilling for whom? That's an answer that might elude even that other, more cerebral, British crime-fighter, Sherlock Holmes.
Read More
Filed Under: