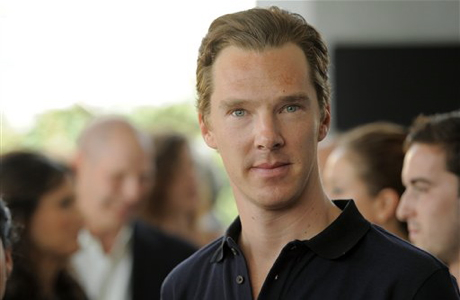 Benedict Cumberbatch and Sherlock may not have fared too well at last night's Emmys, but there are rumors today of a consolation prize that might be even better: Cumberbatch, who is becoming ubiquitous on big and small screens alike, is reportedly being wooed to play the villain in the next James Bond movie.
Britain's Express reports that Cumberbatch is expected to be signed to play the baddie in the 24th 007 movie, which is expected to be released in 2014. Skyfall, the 23rd film in the series, opens November 9 in the U.S.
In addition to starring in the BBC's Sherlock, which airs on PBS in the U.S., Cumberbatch is set to play the villain in the next Star Trek movie and the dragon Smaug in the upcoming Hobbit films.
Of course, the only thing that might please Cumberbatch fans more than his being a Bond villain would be if he were chosen to play 007 himself. But with word earlier this month that Daniel Craig has been signed up for Bond's next two missions, Cumberbatch supporters will have to make do with this news – and appreciate the wide variety of roles he undertakes – for now.
In other James Bond-related news:
• Last night, audiences watching the Emmys got a look at a new TV spot for Skyfall. As far as we can tell, there's nothing in it that wasn't in previous trailers, but it will undoubtedly continue to stir (and shake) interest in the movie – and in tomorrow's release of Bond 50, the entire 007 oeuvre on Blu-ray.
Surely you've noticed that there's a certain look, a certain editing approach to the Skyfall trailers, indeed to all the Daniel Craig 007 trailers. Lots of short scenes, lots of fades to black, increasingly pounding music, with the Bond theme weaved in towards the middle. Well, you're not the only one who's taken note of this. So has the "Unusual Suspect," who put together this clever trailer for the 1967 Sean Connery Bond movie You Only Live Twice in the style of a Skyfall trailer.
http://youtu.be/ClvDMoCDCF0
We especially like the "not in IMAX" bit at the very end.
Just for comparison's sake, here's the original trailer for You Only Live Twice:
Read More
Filed Under: