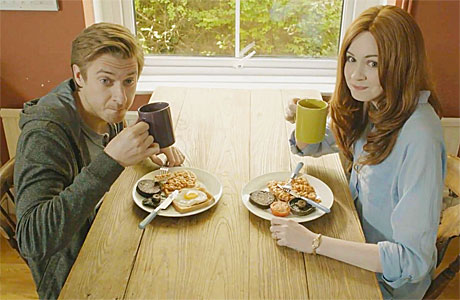 The glory of Doctor Who is that the entire cast can be taken away and replaced, and it won't necessarily mean disaster, especially as the kind of experiences the show depicts – time travel, space travel, dealing with an eccentric man who can't keep still – work best when seen through fresh eyes.
The unusual thing about Rory and Amy Pond in particular is they're the only companions whose time with the Doctor appears to have been so lengthy they are able to normalise the lack of normality. And they don't even realise they're doing it; it takes the appearance of Rory's dad Brian to remind all concerned that this is all remarkable. And that's telling, because the key to the Ponds' relationship to the Doctor is that he is a constant as they develop, something we've not seen him be before.
In Amy's case in particular, we get to see one person interacting with the Doctor from a very young age to a very old age. Never mind that Old Amy, the Amy that got left behind in The Girl Who Waited, was embittered by the specifics of her dilemma – left behind to fend for herself – in a sense those feelings are an inevitable side-effect of all that excitement. The Doctor is an old, old man. He needs to be thrilled by the universe in order to keep ennui and despair at bay, he needs fresh eyes to view it all with. Old companions just want the chance to acclimatise, to let their memories settle in their heads, and the reality of their puckish friend's lonely life, his constant need never to grow up, let alone old, must become frustrating over time.
Of course, to a child, he's a magically exciting creature, all spitting food on the floor and throwing plates out of the front door. We get to see this too (and by the way, can we please have a round of applause for Caitlin Blackwood's performance as Young Amy?), and we get to see what happens to young hearts when the object of their trust disappears for years on end.
In fact, the Doctor is there for all the rites of passage in Amy's life – her wedding, her first child, her marital trouble and her settling down into comfortable domesticity. And as Amy and Rory are childhood best friends (and their other childhood best friend is their future daugher), that means he's caught up in it all too.
The Doctor and Rory's relationship has been equally fascinating. Sometimes he's there for comic relief (Rory, that is, the Doctor is always there for comic relief), sometimes he's there as a moral compass (a role all three of them have a go at), and sometimes he's there just to die. In his transformation from bumbling nurse to man of war and back to nurse (albeit a nurse who can punch out Hitler) is the proof that the Ponds have been with the Doctor a long time. Amy will always be a little gobby and willful, but Rory has truly grown up in the time we've known him. But there's one final rite of passage left, the big one.
So, whatever happens in Manhattan with the Angels tomorrow night, if someone dies, if they both die, if no one dies, it will be part of the same tale, the Time Lord being the backbone and prodigal child of his adoptive family, come what may. And if he truly has to leave the Ponds behind, you can bet it will be a long time before he becomes that involved again.
And why? "Because you were the first. The first face this face saw. And you were seared onto my hearts, Amelia Pond. You always will be. I'm running to you, and Rory, before you fade from me."
Or something worse happens.
Read More