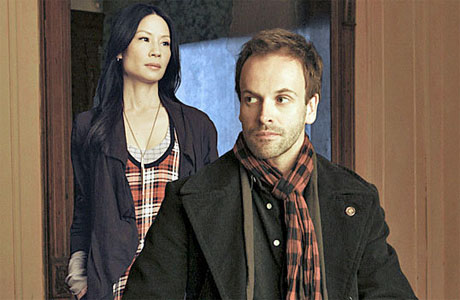 Before we get stuck in to the career of the man who is currently playing the US Sherlock Holmes, to rival Benedict Cumberbatch's UK version, here's an intriguing thing. Last year, both Benedict and Jonny Lee Miller appeared in Danny Boyle's retelling of the Frankenstein story for the National Theatre, and they alternated playing Dr Frankenstein and the monster. It seems these two are well used to spiralling around the same roles:
1: Doctor Who
(Image courtesy of It's Elementary My Dear Joan)
See this plucky fruit-bearing child here? That's our Jonny in the 1982 Doctor Who story Kinda, in which the Fifth Doctor battles a giant snake, of the mind.
2: Hackers (1995)
3: Trainspotting (1996)
A fantastic film that made stars of all of its principle players, most notably Ewan Macgregor. Suffice to say Jonny's career exists in stark contrast to Sick Boy's theory in this clip.
4: Regeneration (1997)
Based on the Pat Barker novel about the crumbling mental health of soldiers returning from the trenches in the First World War.
5: Plunkett and Macleane (1999)
http://www.youtube.com/watch?v=roqIb8lEV20
A very modern take on the costume drama, in which Jonny, Alan Cumming and Robert Carlyle swank about starchily in frock-coats to a rave soundtrack.
6: Mansfield Park (1999)
That same year, more frock-coats, more starchiness, but less rave in this Jane Austen adaptation.
7: Æon Flux (2005)
The title of this movie illustrates one of the things I love most about science fiction. It finds the most complicated, coolest jargon words for fairly basic scientific phenomena – in this case time and bending – and jams them together to create a complex-sounding notion so you know you're in a place where technology has advance beyond current understanding. And look, theeeere's Jonny!
8: Eli Stone (2008)
Speaking of things beyond our current understanding, Eli Stone was the middlingly-successful series about a Frisco lawyer afflicted with visions and predictions of the future.
9: Emma (2009)
Ten years after Mansfield Park, and Jonny's back in the frock-coat, delivering more Austen dialogue in the pursuit of true love, happiness, and ultimate manners.
10: Dexter (2010)
http://www.youtube.com/watch?v=i4KSj8D7ik8
In which Jonny plays a motivational speaker with a dark, dark secret life. This is the moment when he gets his comeuppance from our antihero hero.
What have we missed? Tell us here:
Read More
Filed Under: