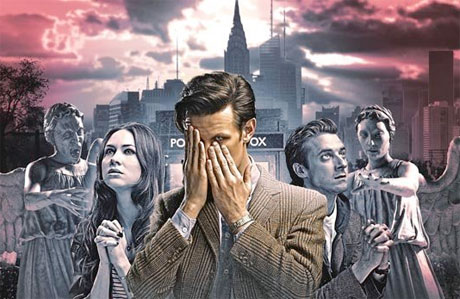 Well, there's no doubt this is going to be a rough week for Whovians of all stripes. The grand Pond finale is upon us, this Saturday, and all anyone knows is that it is all going to happen in New York, there will be Weeping Angels and their cherub progeny, and of course, it's going to be messy.
Here's the TV trailer:
• As we prepare to say goodbye to the Ponds, we're highlighting their very best moments on the show. First, we look back at Amy's many wardrobe changes (from sexy policewoman to pirate chic), and today, we celebrate our top Rory scenes.
• Don't adjust your screens: it's going to be Gingerpaloooza on Conan on Thursday night when Karen Gillan appears on the show as a guest. On the Conan website, her guest description reads, "We've got a special TARDIS-sized parking spot just for Doctor Who star Karen Gillan. It's next to the sign that says 'Wibbly-Wobbly Timey-Wimey Parking Only.'" Oh, see, there you go: Team Coco gets it!
Gillan's interview will air Thursday, September 27 at 11 pm/10c on TBS for U.S. viewers.
• If you weren't aware, Karen's been hanging in the States lately, and just this past Emmy weekend, she turned up at the BAFTA L.A. Tea Party presented by BBC AMERICA. And look, she ran into a familiar face, a.k.a. Doctor Who lead writer/executive producer Steven Moffat, who was celebrating his Emmy nomination for writing Sherlock: A Scandal in Belgravia:
To take our minds off the inevitable, here's a quick runthrough of some other things that have been rocking the time vortex this week:
• Peter Jackson, director of The Hobbit and The Lord of the Rings trilogy has recently stated that he would like to direct an episode of Doctor Who. The Oscar-winning director told the Waikato Times, "I'm a huge Doctor Who fan, and I think Matt's fantastic. Just name a time and place, and I'll be there!"
And the official response has been equally keen, with Caro Skinner telling the Waikato Times: "it is beyond wonderful that Peter is a fan of the show and it's beyond flattering that he'd even think about it. I'm absolutely sure that we couldn't afford him but, you know, we can always negotiate. His enthusiasm is just fantastic of course."
• Have you been keeping up with our episode recaps? Here's the one for The Power of Three, which asks the question "what did the Doctor do with all of those dinosaurs from that spaceship?" among other things.
• And while we're on the subject, here's a brief behind-the-scenes film about that very episode:
• Did you know that you can already pre-order the first five episodes of Doctor Who Season 7 on Blu-ray and DVD?
• Now, who wants to see a picture of Arthur Darvill in the new BBC drama The Paradise? Yep, thought so:
The show, set in a 19th century department store, also stars fellow Who-graduate Sarah Lancashire (you may remember her looking after those cute little Adipose, a while back) and is based on Emile Zola's novel The Ladies' Paradise.
• This week, the rogues gallery plays host to the Tereleptils, enemies of the Fifth Doctor, who have evolved in such a way that they can't even hug one another. It's a terribly sad story.
• Matt Smith has revealed he often can't sleep when he's out in Cardiff filming Doctor Who, and for one very good reason. Smith appeared on UK's Alan Carr: Chatty Man and said, "I've got two beds; one in the house in London and one in the flat in Cardiff, and that is where I was having trouble sleeping. The one in Cardiff is the same flat David Tennant slept in and the bed has not been changed in seven years."
Which is rather unpleasant, of course, but I bet those sheets would go for a FORTUNE on eBay.
Here's the full interview.
• #newtoWHO? So is youtube vlogger Jimmy. If you've always wanted to start Doctor Who and want some background, Jimmy has recruited fellow Youtube vlogger/"Trock" founder Alex Day to answer some of FAQ's about the show.
• And to round things off in some style, how about this, from the Doctor Who Fan Orchestra? It's their fifth collective magnum opus, and is entitled The Impossible Astronaut in tribute to Neil Armstrong:
TTFN!
Read More
Filed Under: