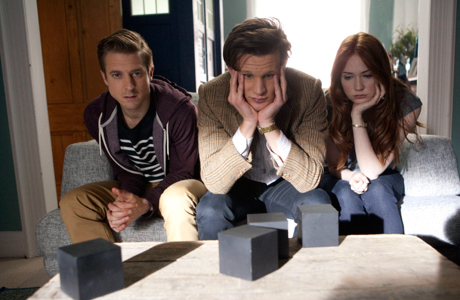 Writer Chris Chibnall, the mastermind behind "Dinosaurs on a Spaceship" and the Season 7 prequel Pond Life, has also penned this weekend's upcoming episode, "The Power of Three" (premiering Saturday, September 22 at 9/8c). And as we await the fall of the Ponds in the fall season finale, "The Angels Take Manhattan," the penultimate episode sets up the story.
Chibnall tells SFX: "It's Doctor Who from Amy and Rory's point of view. We're in the last days of the Ponds as everybody keeps saying, and it was really a chance to see where they've got to in their lives since 'The Eleventh Hour,' and to see what it's like to be them. And I think what's interesting is that the companion/Doctor relationship in this series is very different to any we've seen before because really, they're part-time travelers.
"They're living at home, and the Doctor pops in and goes, 'Shall we go somewhere?', and they're off. That's very new, because they're not permanently with him, and I wanted to see what that would mean. So it's very different to 'Dinosaurs on a Spaceship', and I think it's very different to pretty much any other episode of Doctor Who ever, which is both wonderful and terrifying. It's got a very different structure, a very different feel, and there's a threat to Earth in there as well, so it's a really unusual episode."
And here's the trailer:
• Are you up-to-date with our Doctor Who recaps from this season? Here's Fraser McAlpine's witty summary of the Doctor's ventures into the Wild West, "A Town Called Mercy".
• Watch as Matt, Karen, and Arthur discuss filming "A Town Called Mercy":
• Rolling Stone magazine recently interviewed Karen Gillan, who admitted she wasn't a true geek before she was cast on the series. But being Amy Pond brought her to the dark side. "I feel like I've joined the whole sort of nerd-power world. I used to watch The X-Files and Star Trek, so I always had the potential, but I wasn't a full geek until I joined this show, and now I've become a full-on geek."
• Gillan and Darvill spoke with The Guardian about life about Doctor Who and go a bit into the show's American success. "It's weird over there," says Karen. "It's like this hip, underground thing that they like in Brooklyn and Williamsburg which is funny because it's not like that here."
To which Arthur adds: "We're cool in New York. It's everything I've ever wanted."
However, Karen adds that the show has really broken through in America in the past year. "[T]he last time we went there something had changed. People were coming up to us on the street the whole time saying they loved the show. There were paparazzi following us around which never happens over there. When we got to Central Park there were just hundreds and hundreds of people."
• Community's Doctor Who spoof Inspector Spacetime started out as an offhand pop-culture allusion, but its popularity with fans (presumably those who are also hardcore Whovians) led to it becoming a reoccurring gag on the NBC comedy. Travis Richey, the actor who plays the meta-fictional Inspector on Community, has now created an Inspector Spacetime web series. From the Inspector's associate being named Piper Tate to the villainous, "Integrate!" shouting Circuit-Chaps, the first episode is chock full of Doctor Who references. How many can you spot?
• Alex Kingston has done a bit of time-traveling herself, digging into her family history for an appearance on the British show Who Do You Think You Are?. But to Kingston's shock, it seems her great grandma had a lot in common with Madame Eva and her "women of ill repute" from BBC AMERICA's series Copper. (Mirror)
• Jonathan Ross, Hugh Bonneville, and many other celebrity Whovians are offering their earliest memories of the show for a new book, Behind the Sofa, compiled by author Steve Berry. Proceeds will go to Alzheimer's Research UK. (Telegraph)
• Classic Whovians, think you can keep up with this guy? On the British game show Mastermind, meet a contestant with an astonishing recollection of random Who trivia from 1963 to 1989:
http://www.youtube.com/watch?v=jc58e-vgCu0
Read More
Filed Under: