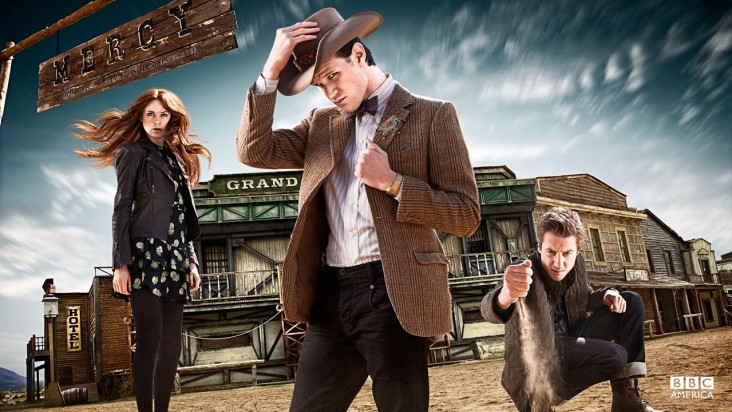 Stetsons are cool once again: the Doctor, Rory, and Amy head to the Wild West for the third episode of this season, the Toby Whithouse-penned "A Town Called Mercy," premiering this Saturday (September 15) at 9/8c. Have you seen the trailer? Oh you haven't? Well here it is:
The episode was filmed in Almeria, Spain, which is part of cinema history: The Magnificent Seven, A Fistful of Dollars, Lawrence of Arabia, and Indiana Jones and the Last Crusade all shot scenes in this Mediterranean province.
Toby Whithouse explains the idea behind the episode in an interview with SFX: "It was Steven's idea – he said he wanted to do a Wild West episode because this year, certainly for the first half of the series, it's these big kind of movie marquee ideas.
"The pitch he gave was just, 'There's a town that is being terrorized by some kind of robot.' It was much the same as when I did 'The God Complex.' Steven's pitch was that the Doctor, Amy and Rory find themselves in a hotel where the geography keeps shifting and it's like a maze. And in that instance my first thought was, 'Okay, a maze, that kind of reminds me of the story of the minotaur.' And with the robot terrorizing the town, I thought about what it was in the town that the robot wants. What if it's a person? Then the idea kind of fell out from there."
• Meanwhile, beloved sci-fi star Ben Browder guest-stars in this episode, and Whithouse can't say enough good things about him. "He was fantastic. I was really, really pleased that we got him because it's an odd part, that character Isaac… Ben has this rather beautiful innate nobility that he manages to just convey, very simply and very economically. It was absolutely how I saw the character, so I was really thrilled with him, and delighted with his performance."
• Matt Smith, Karen Gillan, and Arthur Darvill spoke with the Radio Times (via Female First) about all of the cowboy mischief we'll see in the episode. "We're in the Wild West!" Matt said. "I get to ride horses! I get to play cowboy. Guns! Saloon bar doors…You literally get Doctor Who does the Wild West."
He adds, "Oh man it was fun. Stetsons and everything. We did a scene, a showdown in a windswept street. It's quite exciting to get to play a cowboy. What's wonderful about the Doctor is, of course you get to do the narrow-eyed stuff and the posturing, but then two lines later he'll be snapping out of it going, 'Oh this is ridiculous, what am I doing?' He can be ironic, play a role, wear a hat. Then step outside of it and see how silly it all is."
• Did you see "Dinosaurs on a Spaceship" this past weekend? Re-live it with our recap of the episode.
• Test your knowledge of "Dinosaurs on a Spaceship" for a chance to win a Doctor Who TARDIS money bank in BBC AMERICA's weekly trivia giveaway.
• Doctor Who continues to collect fan trophies: the series won the Best Family Drama award at Britain's TV Choice Awards, beating out heavyweights like Glee, Merlin, and British school drama Waterloo Road.
• The Nerdist YouTube Channel has truly outdone itself with all of the Doctor Who content they've been rolling out in the past couple of weeks. We've seen the epic Nerdist vs Doctor Who bowling event, plus the Chris Hardwick-hosted Q&A with Matt, Karen, and Caroline Skinner that took place at the premiere screening in New York. Now watch they've released video from this summer's San Diego Comic-Con, with Nerdist News' Brian Walton interviewing the Doctor Who crew, including Steven Moffat, about the imminent fall of the Ponds.
• Speaking of conventions, watch as Nerdist's Chloe Dykstra and Matt Mira prowl around Gallifrey One in search of "Canoodling Cosplay Companions." And they manage to spark a hot love connection between two unsuspecting Whovians.
• Karen Gillan has taken part in a massive photo shoot for Marie Claire magazine, in which some of Britain's greatest female stars striking poses before some of the UK's best-known locations. Here's behind-the-scenes video, featuring a very red-lipped Ms. Gillan looking gorgeous outside of 10 Downing Street, the home of Britain's Prime Minister. (Wouldn't 11 Downing Street have been more appropriate?) Oh, and look out for Helen McCrory vamping it up like a sexy Vampire of London:
• Mashable puts the Sonic Screwdriver Universal Remote Control (now available for pre-order in the BBC America Shop) to the test:
• And check out this fan-made Doctor Who "Guess Who?" game.
And here's the making-of video:
What's your favorite Whovian find of the week? Tell us below:
Read More
Filed Under: