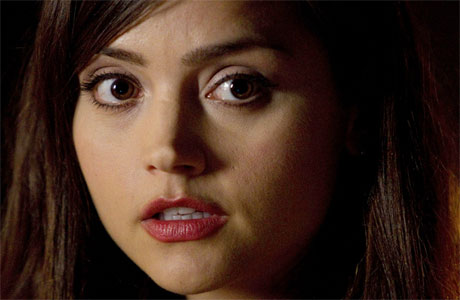 OK, so there's really only one thing dominating Whovian debate this week. Not just the return of the show, not just the amount of vintage Daleks on display in Asylum of the Daleks, but THAT surprise appearance from Jenna-Louise Coleman, her character's selfless sacrifice (HOW is she going to be the new companion now?) and the fact that her involvement was kept a secret right up until her first appearance, baking a souffle and recording a birthday message for her mum.
As Steven Moffat, explained, keeping her appearance a secret has not been an easy task. He told the Doctor Who website: "I hope you all got a nice surprise when Jenna popped up in Doctor Who several months early. If so, that surprise came to you courtesy of the frankly magnificent ladies and gentlemen of the press, and of the many Doctor Who forums and blogs too.
"This show has been seen at four separate screenings, across four different countries and yet not one person gave one spoiler. From all of us on Doctor Who, a heartfelt thank you for helping us tell our story."
Jenna-Louise added: "Boo! Hello! Hope we gave you a good surprise! Thanks to all the fans who kept it quiet and made it so! More to come… watch this space!"
• And if you're still reeling from Saturday's revelations, there's also been this behind-the-scenes report:
• Of course, with the next episodes on the way, there's a new trail! A new trail! Having seen off all the Daleks in the Asylum, it's time for the Doctor, Amy and Rory to go off and do something different. Time to put some dinosaurs on a spaceship, in an episode entitled, well, Dinosaurs on a Spaceship:
• As you'll have seen, every Monday we'll be offering full episode recaps on all of the stories in this series, and have already completed Asylum of the Daleks. It took ages, so please do take a look, although obviously we're into heavy spoiler territory.
• Congratulations are due to Neil Gaiman, who won a Hugo award for his astonishing work creating The Doctor's Wife.
During his acceptance speech, he also revealed that he's into his third draft of a new script for the show (a revelation the BBC have yet to confirm). More news on this as we get it, but y'know… eek! (via io9)
• Did you get to watch all of Pond Life? If not, here's the omnibus edition:
http://www.youtube.com/watch?v=_Sb1KKd1zqM
And did you watch the Nerdist Celebrity Bowling Doctor Who Special, in which a Nerdist Team battle with Matt Smith, Karen Gillan, Arthur Darvill and Steven Moffat to be crowned nerdiest bowlatron of Comic-Con 2012? No? OK, let's do that now:
• This week's Rogues in our Gallery are the Ice Warriors, who started off as lizard-voiced warriors from Mars and ended up taking a more diplomatic role in interstellar relations.
• The BBC's The One Show and Nick Briggs set up this little prank recently, encouraging poor commuters at Slough station to believe their trains were staffed by Daleks:
Oh and did you see the clip of Karen Gillan on that show on Friday?
• Freema Agyeman is this week's profiled former Whovian in Life Outside the TARDIS. Watch the stuff she did before and after Martha.
• Let's end with this. We love it. Veronica Belmont has never seen Doctor Who, luckily everyone she knows is cool with it. Or are they? (via revision3):
Read More
Filed Under: