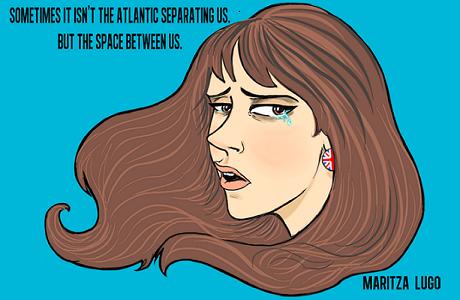 Dating a British Man is a ten-part series that will take you through the dating ups and downs, it can be considered a guide as what to do — or, what not to do — depending on how you look at it. Here are some tidbits based on my experiences dating British men from England, Scotland, Wales and Northern Ireland. Not all at the same time!
Break Ups
Let's face it if you're not getting married most relationships ultimately come to an end. If he proposes after a few weeks or months, be careful you're not unknowingly signing up for a Green Card wedding. If it doesn't work out as you predicted, it will most likely be the most pleasant and polite tell off.
Brits are definitely blunt but not necessarily direct when it comes to awkward situations. I mean, if you're the one doing the dumping, he'll most likely get it straight away. Done. It's not that easy with girls. Girls, rightly, want closure. Not much but at least a "thanks but no thanks." It may drag out for months with polite texting back and forth and even cordial meet-ups before you realize you are no longer an item.
What to expect
Texting really gets you as it is peppered with British colloquialisms like, "Shall I come by (to drop off your things) …" or "I'm chuffed for you, thank you for the thoughtful call (can we make that the last one)."
The thing is "I'm chuffed for you" means "I'm happy for you" but it does not mean, "I'd like to see you." In other words, I'm happy for you, take care, adios, good luck, see ya later (but not really)!
It may go something like this:
Brit:  You ARE a lovely girl.
Girl: Uh-huh!
Brit: Close to perfect.
Girl: Oh my!
Brit: I've really enjoyed spending time with you.
Girl: Me too!
Brit: I think it'd be best that we appreciate that time and don't ruin it.
Girl: Sounds good!
Girl: … wait a minute.
See how he cushioned the blow and everything was said in the positive. It almost sounds like a good thing? You may find yourself saying, "Yes, yes. I totally agree. You said it so poignantly." Even so, pretty painless.
That reminds me, I haven't heard from the soccer coach in about a week, possibly he is done with me? … nah.
What to do
Distance makes the heart grow fonder but if someone is being distant it is a totally different story. Sometimes it's nice to quit while you're ahead, if you even are ahead. Let it go and consider it good "practice" for when you do meet the guy for you. Maybe catch up on your reading with some Brit Lit.
How do I know this? I'm the American Bridget Jones. She worked in book publishing and transitioned into television. As did I. She is neurotic and unlucky in love. As am I. She had a happy ending. As will I.
Next: … time will only tell! Syndication?
Read More
Filed Under: