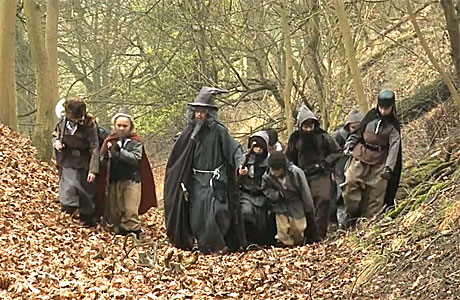 We all know it takes a while to make movies. Even after the script is finished there are all of those locations to find, actors to cast, scenes to storyboard and shoot, edits to make, sound effects to create, visual effects to add… it's not something you can knock up in an afternoon.
However, Peter Jackson has been making his Hobbit movie for, what, a year now? Eighteen months? And this has allowed time for rival productions to mount a challenge to his Tolkein supremacy. Rivals like the pupils of Tower House prep school – the prep school of both Tom Hardy and Robert Pattinson – who have snuck up behind Mr Jackson with their own version.
The film was directed by Paul Geary, head of drama at the school, who told the Evening Standard: "It was our ambition to do something totally unique, something no other school has ever done. As far as I am aware we are the first prep school to do a full feature-length film."
They even had a proper CGI dragon, and a cinema premiere, thanks to the production company of Cliff Webb, whose son goes to Tower House and appears in the film.
Joey Whittaker, 13, who played Bilbo Baggins, added: "It was a really great experience. It is interesting seeing it and seeing you have spent two hours on something that goes by in a minute. I read a bit of the Hobbit but now I have a bit more knowledge. The Hollywood film is coming out quite soon and The Hobbit is going to become very popular, so it is a good feeling."
And they even managed to cram the entire story into 90 minutes, which means they beat Peter Jackson on speed, economy AND brevity.
Although Peter has Martin Freeman, so… *wobblyjusticehands*
Read More
Filed Under: