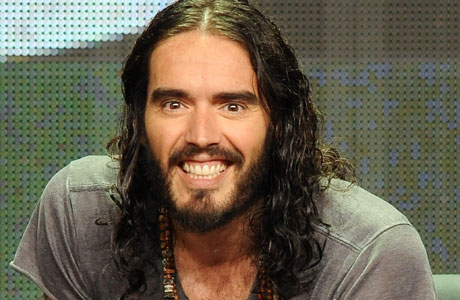 The life of a stand-up comic is rough. Long, lonely nights on the road landing you at gross dive bars. Just ask Russell Brand. Well, maybe he's the exception.
Brand finished up a gig in the lovely town of Bath, England and was then reportedly chauffeured 200 miles to meet up with a brunette bird, who was not Geri Halliwell, in Bury St. Edmunds, Suffolk.
Hotel staff candidly told The Sun that he turned up at 8:30pm with an unidentified companion entering the town's Angel Hotel. According to the staff, he introduced her as "my beloved Amy."
Again, not "my beloved Geri."
Prior to this recent spotting, Brand was linked to former Spice Girl Geri Halliwell. Finally, she gets a mention. The two entertainers met at the Olympic closing ceremony and enjoyed a string of dates that even included Halliwell's young daughter.
Ealier this week, just two days ago, Halliwell confirmed her budding relationship with Brand as being a "whirlwind." Well, yeah, a whirlwind is indeed speedy and leaves you spinning.
In his autobiography Brand wrote: "To this day, I feel a fierce warmth for women that have the same disregard for the social conventions of sexual protocol as I do." We suspect Halliwell is more traditional having told The Sun, "All I want is to be in a loving relationship."
Do you think Halliwell found out about the new bird through the interweb?
Read More
Filed Under: