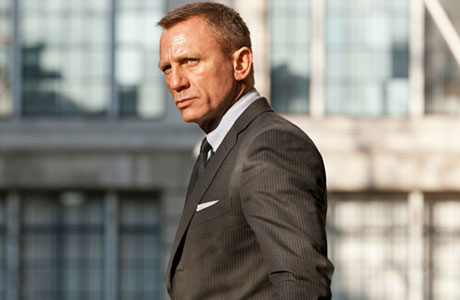 BAFTA Los Angeles will celebrate its 25th anniversary with a star-studded Britannia Awards ceremony honoring Daniel Craig, Quentin Tarantino, Trey Parker and Matt Stone, and video game designer Will Wright, Variety (reg. required) reports. The ceremony, which is set to take place at a Beverly Hilton Hotel gala dinner on Wednesday, November 7, will air for the first time on BBC AMERICA on Sunday, November 11 at 8/7c, preceded by the Britannia Awards Pre-show Special at 7:30/6:30c.
Daniel Craig — who will appear in his third James Bond film Skyfall this November — will be honored with the Britannia Award for British Artist of the Year. Oscar- and BAFTA-winning filmmaker Quentin Tarantino, who will release his eagerly awaited Django Unchained this Christmas, will receive the John Schlesinger Britannia Award for Excellence in Directing.
South Park co-creators Trey Parker and Matt Stone, who won Tonys for their Broadway foray The Book of Mormon, will collect the Charlie Chaplin Britannia Award for Excellence in Comedy. SimCity and Sims designer Will Wright has been awarded the Albert R. Broccoli Britannia Award for Worldwide Contribution to Entertainment. Additional recipients are said to be announced in the coming weeks.
"With the BBC broadcasting the BAFTA Awards in London, it feels only natural that BBC AMERICA would become our broadcasting partner for the Britannias, here in LA," said Nigel Lythgoe, who is chairman of the Britannias. "They join us for a most incredible evening, as we celebrate and reward some remarkably talented people on our 25th Anniversary."
Perry Simon, General Manager of Channels for BBC Worldwide America, adds, "BBC AMERICA is delighted to broadcast this year's Britannia Awards. This event is a perfect fit for our brand as we continue to bring our audience the best of the U.K. in the U.S. We've enjoyed a wonderful relationship with BAFTA Los Angeles and this is the logical next step in the evolution of our partnership."
The Britannia Awards, which have been handed out since 1989, honor "individuals and companies that have dedicated their careers to advancing the entertainment arts." Past recipients have included Helena Bonham Carter, Sir Michael Caine, Tom Cruise, Robert De Niro, Clint Eastwood, Colin Firth, Tom Hanks, Dustin Hoffman, Anthony Hopkins, the late Stanley Kubrick, George Lucas, Steven Spielberg, Martin Scorsese, Dame Elizabeth Taylor, Christopher Nolan, Emily Blunt, Sean Penn, Dame Helen Mirren, Ben Stiller, Kate Winslet and Denzel Washington.
Read More
Filed Under: