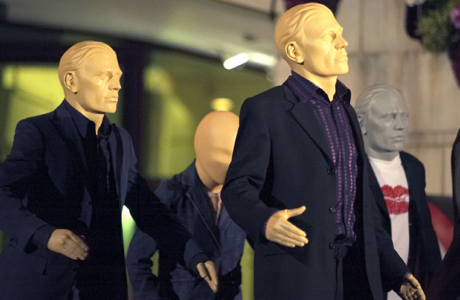 We continue our #newtoWHO series with Arnold T. Blumberg (@arnoldtblumberg), a prolific author, educator, book designer, and Doctor Who DVD reviewer for IGN. He co-authored the Howe's Transcendental Toybox series of Doctor Who merchandise guides and has written extensively on zombies. As a professor, he teaches zombies in popular media and science fiction media at the University of Baltimore and comic book literature at the University of Maryland. Blumberg is launching his own press, ATB Publishing (@ATBPublishing), with two Whovian titles as its first releases.
Blumberg tells us his own #newtoWHO story – he got his start during the kaleidoscopic Colin Baker era – but he advises curious viewers to begin with the modern episodes.
1. Who introduced you to the show?
You could say my mother, since when I was a little kid she occasionally flipped by PBS, saw the guy with the scarf who had the same curly hair I had, and said "this looks like a show you'd like." But I was a devoted Star Trek and Star Wars fan in those years and didn't start watching then, although I did once see "The Leisure Hive" thinking I was watching a really cool standalone British sci-fi movie.
2. What was your first episode, and what about the show grabbed you?
One night in August 1987, I turned on Maryland Public Television, saw "Attack of the Cybermen" with the Sixth Doctor (Colin Baker) and Peri (Nicola Bryant), and never stopped watching after that. Some fans fault that episode for the massive continuity references, but it was for that reason — the promise of a huge universe I didn't know yet — that the story drew me in; Peri probably helped too. Then I found out the Washington DC PBS station, WETA, was running a whole different era (Third Doctor/Liz, I started with "The Ambassadors of Death"), and I kept watching both runs until I had seen everything there was to see. I loved its style, its irreverence, its intelligence, and its endless ability to adapt to new kinds of storytelling.
http://www.youtube.com/watch?v=aGZQg7rdc8s
3. If curious viewers wanted an introduction to Doctor Who, which episode would you suggest they start with and why?
Although many New Series fans, including very young viewers, have found their way to the Classic DVDs and can embrace the show in any era regardless of the production and pacing differences, I would still tend to recommend a New Series start for any viewers coming to the show for the first time in 2012.
I can think of no better starting point than where it began again in 2005, with "Rose." Russell T. Davies knew exactly how to balance reintroducing the mythology of the show with the expectations of a modern audience; it's magic in action and eerily mirrors the major Classic-era relaunch in 1970, "Spearhead from Space," which is another great starting point although very different from much of the show that surrounds it on either side.
Learn more about the #newtoWHO campaign, get a guide to the Whoniverse, and share your how you first started with Doctor Who using the #newtoWHO hashtag on Twitter.
Read More
Filed Under: