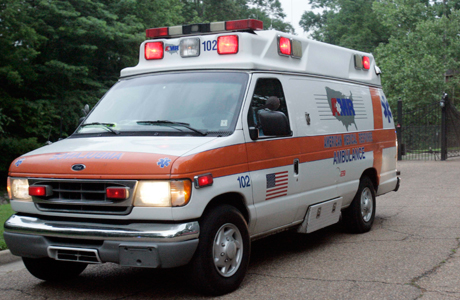 When a crisis strikes on American soil, who are you going to call? Keep these emergency numbers and links to hand and help will never be far away.
911
Unless you've isolated yourself entirely from American popular culture, you'll know that this number is the country's 999 equivalent. It'll get you instant access to the police, an ambulance or the fire brigade. What you may not realize is that, unless you have excellent insurance, when you order an ambulance you'll get a bill afterwards. Expect to pay anywhere from $100 up to a $1,000. (Charges vary from state to state).
The British Embassy
So the dog ate your passport? Time to begin the laborious process of ordering a replacement from the British Embassy. You'll also need to report lost and stolen passports to the police and get an incident number.
Rentokil
Another cultural nugget you may have picked up from films and TV is that many American homes come with cockroaches. These red-brown critters, usually measuring just over an inch, are an all too common household pest. Getting rid of roaches isn't easy and might require a chemical blitz by an exterminator.
Befrienders
Affiliated with the British Samaritans, this organization has outposts all over the world, including plenty in the US. If you're depressed, suicidal, bereaved or have any other pressing mental health concerns, check the website and find the correct helpline number for your state.
ASPCA
According to its website, the American Society for the Prevention of Cruelty to Animals only operates in the New York/New Jersey area, but search their database, and you'll find numbers to report animal cruelty nationwide. If in doubt, call the police.
Childhelp
Childhelp is the closest equivalent to Childline in the U.K. It provides a safe, free and confidential advice service for children and teenagers. The Boys Town helpline and website provide similar support. Struggling moms and dads, meanwhile, can call the National Parent Helpline.
Domestic Violence helpline
If you're a victim of domestic abuse, or think you know someone who is, then The Hotline provides a free and confidential phone line you can call for advice and support.
American Association of Poison Control Centers
If you suspect you've come into contact with, or ingested, a toxic substance, then the American Association of Poison Control Centers are the folks you should check in with. However, don't hesitate to call an ambulance if you're gravely ill or would rather not hang about. Let your 911 operator, paramedic and doctor know which substance you think is responsible for your condition and, whenever possible, take its container (pill bottles, etc.) with you to the hospital.
Substance Abuse Treatment helpline
If you have a drug problem, or any other mental health issue you'd like to discuss with the aim of getting a referral for treatment, then call SAMHSA (Substance Abuse and Mental Health Service Administration). They'll be able to put you in touch with specialist treatment centers in your local area.
Breakdown Assistance
It's pretty much the same deal as in the U.K. U.S.-dwelling car owners need to join a breakdown service and pay their monthly or annual fee to receive 24/7 cover. Here, the American Automobile Association — or AAA — is the best-known provider. As a member you can call their national helpline (1-800-AAA-HELP) and get assistance with anything from a blown gasket to a flat tire.
Money Wiring Service
If you run out of funds but know someone who's willing to provide a cash injection, the transaction will be quick and easy if you use a service like Western Union. For a fee, your rescuer sends money online or in person, then you can pick up the cash in-store almost immediately.
Identity Theft
Suspect someone is using your social security number or other personal information? Your first call should be to the Federal Trade Commission (FTC). They'll offer you advice on how to proceed. You should also contact the IRS (Internal Revenue Service) in case a fraudster has filed a tax return under your name to get a refund.
U.S. residents, what other emergency numbers do you have stored?
Read More
Filed Under: