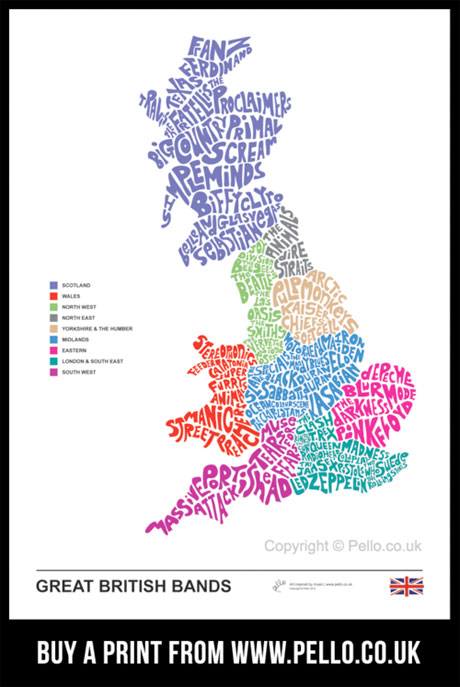 So this thing emerged this week, from Pello.co.uk, a lovely infographic depicting the island that is called Great Britain (being the biggest of the British Isles), as if it were made up of the names of British bands. The map has even been divided into localities, to loosely represent the geographic area each band comes from.
Of course, the trouble with a map of this nature isn't what you have done, but what you've left out. Northern Ireland, for example, a part of the United Kingdom, a loyal corner of Great Britain the country, is missing. Which denies us the chance to see Van Morrison or the Undertones or Stiff Little Fingers or Ash or Therapy? depicted in lovely mappish text.
Then there's the problem of localities. The South West, for example, is entirely represented by bands from Bristol, which sits at the most northerly and easterly point in the whole region. Massive Attack's name reaches all the way down to Penzance in Cornwall, and they may have never been there. Not that this is a massive gripe, you understand, it's merely what happens when text has to be arranged to fit a certain space.
And then there are the bands that aren't listed, against the ones that are. This is possibly the hardest thing to deal with, even though it's just an infographic, and it's hard to fit everyone in. So Scotland is missing Teenage Fanclub, Jesus and Mary Chain and Snow Patrol, but there's been room found for the Fratellis. XTC aren't listed, and nor are the Stranglers, but Tears For Fears are.
But you can't deny it's a lovely thing, regardless of all this. And probably designed with an argument in mind.
Who would you like to see reprensented? Tell us here:
Read More
Filed Under: