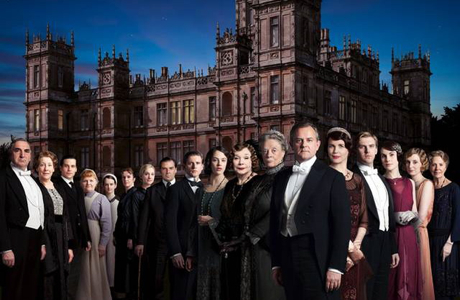 If you live in the continental U.S., take a moment, please, for a brief plunge into self-pity. Why? Because we Yanks must wait all the long, long way until January for our next helping of fresh episodes of Downton Abbey.
The alternative is to buy a plane ticket and fly to England next month, which is when British viewers will be able to begin watching the third season of the hit, Emmy-winning drama.
To whet appetites for the start of Season 3, ITV, the British network on which Downton airs in the UK, has just released a 20-second promo teaser. (The period drama is on PBS stateside.)
The teaser features members of the aristocratic Crawley family discussing the imminent arrival of Martha Levinson, a new character this season, who's to be played by Shirley MacLaine. Levinson is the mother of the American-born Lady Cora Crawley (Elizabeth McGovern).
In the clip, the Dowager Countess, deliciously played by Maggie Smith, has the last word, as always.
Here's the teaser:
A second brief, tasty clip from ITV features grand dames MacLaine and Smith trading barbs:
Bootleg copies of a longer ITV trailer for Downton's third season were briefly available on-line late last week. The trailer revealed that the Crawleys will have financial problems this next season and that new servants will be introduced, among other plot developments. Unfortunately, the trailer seems to have been scrubbed, at least for now, from the U.S. digital universe. Click here for an in-depth dissection of it at New York magazine's Vulture pop culture web site. (Warning: several spoilers are included.)
———————————-
Are you eager to see Downton Abbey's Season 3?
———————————-
Read More
Filed Under: