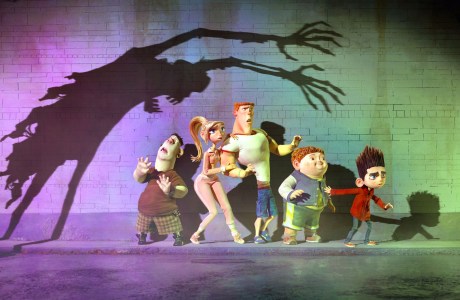 The new 3D stop-motion animation ParaNorman which opens Friday, August 17 could be the first-ever children's zombie movie. That's the claim made by Sam Fell, the British filmmaker who co-directed it. More precisely he says: "We are certainly the first stop-frame zombie movie for kids."
"It's a fun ride, it's about zombies, there's all kinds of stuff going on, it's simply about someone finding out that what makes them weird also makes them wonderful," says Fell.
The action in this well-crafted film revolves around Norman Babcock, voiced by Kodi Smit-McPhee, who lives in a New England town that's come under siege by zombies.
The film touches on a topical issue in the U.S.: bullying.
Norman is constantly pestered by a bully – and he's often ridiculed by others.  He's not fully understood and people judge him.
The film's British screenwriter Chris Butler, who also co-directed the picture, says: "We're actually saying bullying exists everywhere and anytime that you look at someone and judge them without knowing them, you're being a bit of a bully yourself."
ParaNorman has been widely praised for the quality of its animation which many critics see as a real artistic triumph but there's been less satisfaction with the screenplay.
In the world of stop-motion filmmaking, ParaNorman certainly has grand ambitions. Sam Fell says: "We really wanted to make this feel like a big cinematic blockbuster so we wanted our world to be bigger than previous stop-frame worlds. It's a ridiculously huge endeavor, rather like building a cathedral."
Read More
Filed Under: