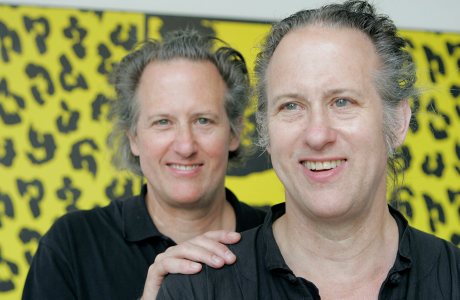 The prolific – and at times unsettling – art of the London-based Quay Brothers is on full display at a new exhibition at New York's Museum of Modern Art, and their fans are mightily impressed.
Stephen and Timothy Quay are 65-year-old identical twins who've spent a lifetime creating stop motion animations, illustrations, album covers, music videos  – and much more.
The designs of the Brothers Quay may demonstrate great artistic prowess. But they aren't cozy and comforting; they can be peculiar and disturbing. The New York Times recently noted that their style has been called Victorian Gothic Surrealism.
Their films don't conform to straightforward narratives.  Some feel like they belong to a different age. Don't look to dialogue for guidance; most of their films are silent. Stephen Quay says: "We've always been very image based artists. The image is predominant."
The Quay twins were born in Pennsylvania, but they've been living in London for more than thirty years.
Stephen Quay says: "I think sympathetically our heart is more European."
Among their more potent influences is poster art from Poland in the 1960s.
The eccentric Brothers have also made commercials.  That requires them to navigate a rather different world.  "It's a challenge to be perverse in an industry where they're selling lunacy – so it's a challenge just to obey their terms and to see if you can come out without your tail between your legs," says Timothy Quay.
Although their work doesn't have mainstream appeal, Ron Magliozzi, Associate Curator in the Department of Film at MoMA, says "their influence has been subtle but pervasive."
"Quay Brothers: On Deciphering the Pharmacist's Prescription for Lip-Reading Puppets" can be seen at MoMA until January 7, 2013
Read More
Filed Under: