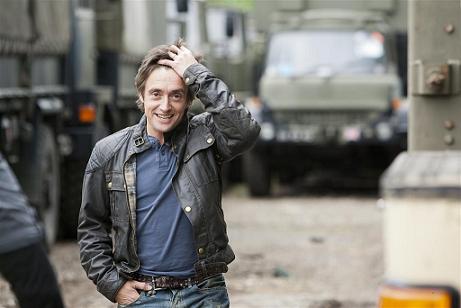 As you probably know, Richard Hammond has been in the U.S. filming the second season of his show Crash Course. Last season, it was all about taking on big trucks and equipments to do everyday – but impressive and sometimes dangerous – jobs. This season, Hammond appears to be taking on equally difficult tasks but sometimes without the heavy machinery. For example, he was in L.A. learning how to be a stunt man, and he's been in New York, where he tried being a cabbie and a stand up comedian.
Last week, he did an online webchat with Jalopnik in which he said, "Stand up was the scariest thing I've ever done. And I notice I haven't been invited back!"
Here's some of the other stuff the Hamster said in the chat:
Question: Will you be blowing up more minivans this season on Crash Course?
Hammond: No. I get set on fire instead. And thrown off a bridge. And thru a window.
Question: Have you had a drink with [American Top Gear host] Rutledge Wood? I heard he has a crush on you.
Hammond: Yes I have. it was nice. We spoke in whispers and sat close
Question: How can I be like you?
Hammond: Pretty easy really. Are you short? Bad hair? Annoying? Then you're already most of the way there
Question: Are you sort of miffed with the London Olympic Committee for not including you in the opening ceremony as a prime example of British culture?
Richard Hammond: I still think we should have competed actually. I dunno, swimming maybe? Or is sitting down and arguing a sport?
• The cab driver who worked with Hammond posted about it on his blog, Hack Shots of New York.
"Filmed 20 hours this week with Richard Hammond," wrote John McDonagh. "I tried to teach him how to be a yellow taxi driver… Had a great time, but more on that in Oct."
McDonagh posted a photo:
• This week's show, airing Monday Aug. 13, 9p/8c, is the last episode of the famed "lost" season two. Comedian Alan Davies is the episode's Star in a Reasonably Priced Car. In addition to driving – and breaking – his Suzuki, he discusses some road trips with other famous British comedians.
Richard Hammond is very impressed with a TVR T350C. He drives it around a lot. Oh, and he's also joined by two Harrier jets.
So, as you take this opportunity to view the final episode of this rare discovery from television's recent past, what have you learned? Sometimes, uncovering new evidence and information merely confirms our current hypotheses, giving us more evidence to support the theories we already have. On the other hand, sometimes taking a look back at a key discovery can change everything – it can cause you to see history in a completely new light and to abandon all your preconceived notions about the world. Put another way, your head could explode.
• Just as the "lost" season two of the British Top Gear concludes, the American version of Top Gear returns for its third season. Beginning on August 14 on History, racing analyst Rutledge Wood, race driver Tanner Foust and comedian Adam Ferrara take the stateside edition for a spin.
"The craziest thing we did this run of six," Wood was quoted as saying by Hollywood Today, "was something I've always wanted to do…pick up a rental car and try to get it through the desert on some of the craziest off road trails I've ever seen."
Read More
Filed Under: