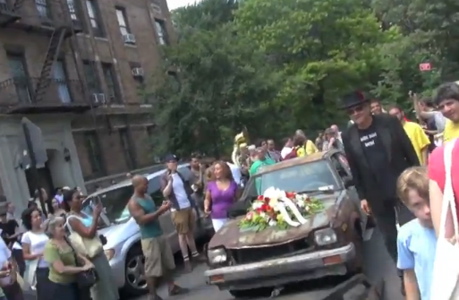 We all know about the deep, abiding emotions people have for their cars, and recently we ran across a couple of stories that demonstrate that those feelings only get stronger over time.
Earlier this month, a New York City man felt so emotionally close to his 1982 Honda Civic that he gave it a funeral before it was taken to the junkyard. Owner Harry Ettling got a Dixieland jazz band to play at the ceremony, just like a New Orleans funeral procession. The funeral was reported in the New York Daily News.
The car, which had 170,000 miles on it, was affectionately known to Ettling and his friends as "Bluey" because at one point in its history it was blue, rather than largely rust-colored. Over the years, it survived typical New York City indignities – moving cars crashing into it while it was parked on the street – and some not so typical indignities – it was overturned during rioting in Washington Heights in 1992.
http://youtu.be/ViAe8qr4my0
"Everybody in the neighborhood knows this car," Ettling said in his eulogy for Bluey. "People have come up to me and said, 'Ever since I was a little toddler, I've been seeing this car on the street.' And that's a beautiful thing… I think in that way, Bluey's influence and his impact on the neighborhood and his memory, if not him, will certainly live on for many years to come, if not, forever."
But the car's body was falling apart, and the end was inevitable.
"I've always considered this car to be the most reliable friend I've ever had," said Ettling. "I've never had a friend that's always been there for me the way this car has, through thick and thin."
• Here's a story about a man who, after almost 40 years, decided he'd try to resurrect his car from a cold, watery grave. TopGear.com ran reader-submitted photos this week of the 2009 rescue of a 1957 VW bus from a Norwegian fjord, where it had been submerged since 1973. Calling the entire operation "mental," Top Gear noted that in order to recover the VW Samba Deluxe, a remote control mini sub had to be sent into the dark, icy waters, "following a tip-off from the chap that put it there in 1973 (it was rolled into the water when its gearbox broke)." Then, he hired a crane.
"Unbelievably, just a year after the rescue mission in 2009, he'd put it back together enough for it to drive. Apparently, the water was so cold it helped preserve the steel sheet metal," writes Top Gear, which also says that work on restoring the bus is continuing. "We salute you, brave knight."
• So you're a police officer in a town in the North East of England and you get a call to investigate a noise complaint near a local stadium.
When you get there, you don't find a group of kids, but instead the celebrity cast of Top Gear.
"It was a little unexpected to say the least," police community support officer James Metcalfe told The Northern Echo.
Metcalfe rode over on his bicycle.
"I saw James May and The Stig sat in a car," Metcalfe said, "and briefly spoke to Jeremy Clarkson. He said to me, 'In London, they issue the police with cars.'"
The Northern Echo was running a special promotional offer for free fish and chips, and one of the paper's reporters brought two portions for May and Clarkson, to demonstrate, wrote the paper, that "the North-East's takeaway grub is no laughing matter."
Clarkson told the Echo: "I thought, "'Now I'm back home.' I was seriously thinking about nipping out and getting some during our break, but you beat us to it, and they are absolutely fabulous."
• As the world remembers Neil Armstrong, who died Saturday at the age of 82, we mention a tribute that came from the world of Formula One racing earlier this week.
Ron Dennis, the British executive chairman of the McLaren group, spoke of Armstrong's inspiration to the racing world.
Dennis, who was made a CBE in 2000, said: "In 1969, when Armstrong took that famous 'one small step for a man, one giant leap for mankind', I was a 22-year-old motor racing technician. But Armstrong showed me, and many others like me, that in our own small way we could also dare to try – and 'dare to try' remains a McLaren mantra to this day."
NASA astronauts and scientists, writes F1 blogger Joe Saward, "inspired many to pursue careers in scientific subjects that led them ultimately to concentrate on the cut and thrust of Grand Prix racing, where engineers see their work in action far more quickly than in other industries."
• If it's Labor Day, it's time for another Top Gear Marathon, which starts at 8am Monday morning. You'll have an opportunity to watch Season 18 in its entirety, along with the India special.
All of Season 18 will be there – including the visits of Doctor Who's Matt Smith and Shame actor Michael Fassbender, as well as the trips to Italy and China and the mobility scooter race through the Welsh town of Abergavenny. Here are some sneak peek outtakes:
Here are some sneak peek outtakes from Season 18:
• Meanwhile, the History channel will be airing the fourth episode of Top Gear U.S.'s third season next Tuesday, September 4, 9pm/8c. It's called "One Tank" and, unlike Richard Hammond's Crash Course, it doesn't involve heavy artillery. The title refers to a gas tank, and the question – and challenge is – how far can its hosts get on one tank of gas?
• Here's a deal we're bet you're sorry you missed. Earlier this month, reports Television New Zealand, a lucky bidder in an online auction bought a BMW for a dollar from a dealer in Christchurch. It had been mistakenly listed under the "buy now" option at just one buck, and was quickly bought by someone with the online screen name of "bignz."
Despite the pricing error, the dealer honored the sale of the 1994 BMW 320i, which had been expected to sell for roughly $3000.
"We are firm believers in the auction process, and for it to be fair to buyers and sellers alike," said Stadium Cars manager Mike Noakes. "I thought, 'Whoops', but it is what it is. You can only laugh about it."
Read More
Filed Under: