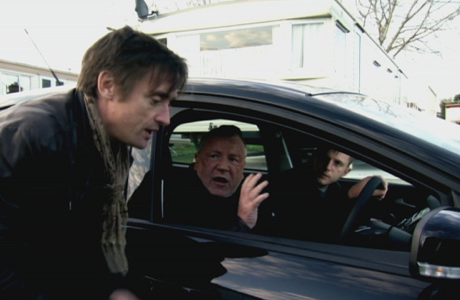 When director Nick Love needed to get some help filming car chases for The Sweeney, his movie version of the famous British TV police series, where did he turn?
To Top Gear, of course.
British actor Ray Winstone and rapper Plan B, who are both in the movie, already spent some time with the folks at Top Gear last season, so it was only natural.
In fact, anyone who watched the episode, as the Daily Mail pointed out, "will have seen Jeremy Clarkson and Richard Hammond making a pig's ear of filming The Sweeney's car chase, and Nick Love's furious reaction."
But while it was all joking for the episode, the crew of Top Gear was busy working on the filming of the movie.
"The trouble was, Nick's never done a car chase before," said Plan B, whose real name is Ben Drew. "So who was he going to ask? Who's got the best experience? Top Gear. That was a touch of genius, I thought. Very resourceful. No one had asked them before, so they did it for us."
According to The West Australian, the movie's producer, Chris Simon said, "It took six months of planning and right up to the day we didn't know if it was going to happen or not."
He also added: "We're not really meant to admit that Top Gear shot it for us."
• After severe flooding in Manila earlier this month, Top Gear Philippines asked readers and the car industry to help in relief efforts. This week, the magazine reported that the response was "overwhelming."
"The original idea," the magazine wrote on its website, "was to invite just our readers to donate, but then executives and employees of the car industry once again outdid themselves by not only bringing relief goods but also assisting in packing and transporting the items."
Auto companies also lent vehicles to help vehicles to transport the urgently needed supplies.
"To all our friends and readers who took part in this donation drive, thank you," said the editors of the magazine. "You have no idea what your little acts of kindness meant to others."
• He may be nicknamed Captain Slow, but James May argues that, under many circumstances, cars simply aren't all that fast. Writing in his Top Gear column, May pointed out that other forms of transportation are generally much quicker.
Take trains, for instance.
"Over any decent distance, such as between two cities, a modern train is much quicker," May writes. "I went from London to York a bit back, and it took an hour and 40 minutes. Meanwhile, a trip from London to the aged parents' house in Devon – just five miles further – took nearly four hours in a fast car, a Ferrari no less."
At speeds of 150 miles an hour or more, he adds, "light aircraft, even simple ones, whoop cars' arses."
And he says don't underestimate bicycles.
"For really short trips, a bicycle propped up and ready by the garden gate takes some beating," May writes.
• Sure, you may be addicted to Top Gear, but as hard as it is to believe, not everyone knows about the show. Here's a case study: take a look at this post on the Tulsa Beacon's website. The author, Jeff Brucculeri, says he didn't know about Top Gear until he sat down with his son and joined him to watch "one episode after another of every season."
Imagine what it would be like to be able to discover the show again for the first time.
"While watching with him, I've become hooked," writes Brucculeri. "The three co-hosts of the show are simply hilarious; both witty and a bit deranged."
Read More
Filed Under: