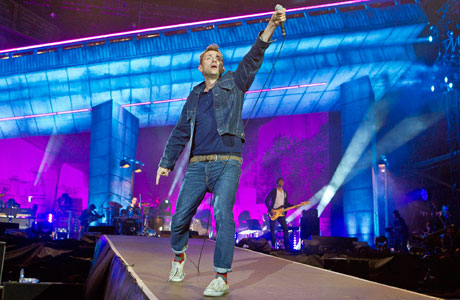 Damon Albarn is lost for words. It's the end of two-hour long set by his band Blur, supposedly the very last thing they will ever do, and he can't find a way to express what this all means. Over in the Olympic Stadium, a few miles away, the London Games is ending with a closing ceremony that celebrates British music, from the Spice Girls to the Who, but in Hyde Park there are no fireworks, no dancers (unless you count the comedian Harry Enfield dressed as a tea lady), and only one special guest appearance, a last run-through of "Parklife" with Phil Daniels.
Earlier in the day, after a tentative opening set from Bombay Bicycle Club, another grizzled and square-peggy British band, New Order, had battled with the sunshine (and a bizarrely quiet PA system) to try and get a party started among 60,000 pop fans who had spent a fortnight watching sport on TV (a first, for a good proportion of them). So, in order to reach out and get everyone's attention, Bernard Sumner talked about Mo Farah, the British runner that has captured the public imagination, and did the 'M' fingertips-on-head gesture Mo did when he won his first gold. This raised a bigger cheer than anything save "Blue Monday." That's not to say they performed badly or that they were playing to a partisan crowd of Blur fans, it's just British cultural life has been entirely altered by the London Games, and in order to reach a population dazzled by the events of the last fortnight, you have to acknowledge that you were there too.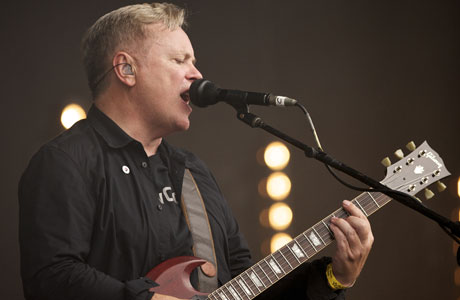 The Specials have a very similar game plan. There's a passing reference to Usain Bolt and a dedication of one song to all of the volunteers who have made the organisation of the Games work so well (and believe me, there has been none of the chaos that had been widely predicted. If anything, London has been rather quiet), while they blam out the bulk of their astonishing first album, with a few choice cuts from the more ragged second and the fan favorite "Friday Night, Saturday Morning" thrown in for good measure. It's during their set (joyful, since you ask) that it becomes apparent that the three veteran groups share a common response to audience expectation. Yes, you have to play the hits, but not all of the hits – "Ghost Town" would possibly not have been appropriate, given the circumstances – and you don't JUST have to play the hits. Or even smile. You don't have to become someone you are not, just to throw a party.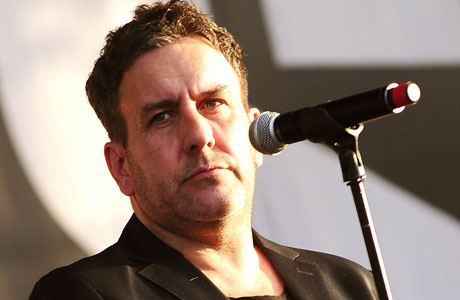 Blur take to the stage after the video screens have been playing the first 10 minutes of the other closing ceremony, so everyone's a little giddy with anticipation. They play "Girls and Boys" and everyone goes nuts, then there are three other songs from "Parklife" as if to re-establish them as the band who did that thing about being British when everyone else was still pretending to be Nirvana. Then they play "Beetlebum," the song they released to take them away from the bowler hatted geezer knees-up that Britpop became. Ever the contrarians, they create a glorious unifying moment with a song everyone knows and loves, then they take that goodwill credit and spend it on performing something less immediate, like the emo-prog confessional "Caramel." It's a little like being convinced to eat your spinach on the promise of chocolate ice-cream for pudding, but (and this is the important bit) no one can quite agree on which songs are spinach and which are ice-cream.
So, it's "Parklife" and Harry comes out playing the Benny Hill card, with Phil Daniels barking his lines to an actual park, and everyone yelling back at him like the cast of Oliver!. But once the tea trolley has been packed away, the band steam into "Colin Zeal," an album track from 1992, and then "Popscene,"  as a lightspeed treat for the real fans. Another jacknife turn on what is becoming quite the white-knuckle ride. Even Damon's Olympic references seem to wrong-foot the crowd, in that the thing he claims to have enjoyed the most has been the lack of adverts in the TV coverage.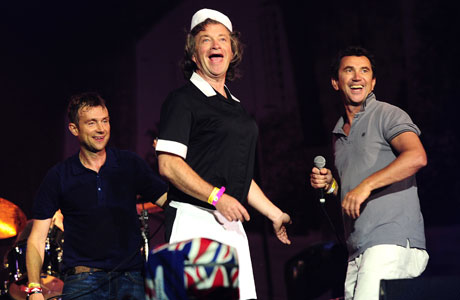 But all rollercoasters finish before you're really ready to get off, and that's why Damon is left, with only "The Universal" to sing, unable to figure out how to say goodbye. If this really is Blur's last ever gig, if this wilful British institution is to go the way of all bands, should he not be able to make a statement, to speak on behalf of his bandmates? Or does the kiss he places on Graham Coxon's cheek during a quiet moment say enough?
And then the music reaches that triumphant fanfare finish, and Damon is left standing, arms aloft, in front of 60,000 people, at the end of a wonderful night, at the end of the most extraordinary fortnight British cultural life has experienced in decades, at the end of a 25-year musical journey with his schoolmate Graham, and after an agonizing pause, and with tears in his eyes, he finally he works out what he needs to say.
"Goodnight"
And it's all over.
Read More
Filed Under: