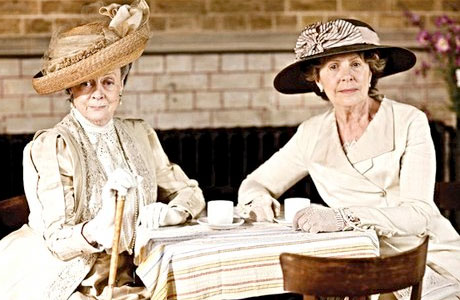 In some ways, compiling this list has been more of a head-scratcher than its male counterpart, and this is in part because of the way producers and audiences tend to view female actresses as they get older. It seems a handsome male lead can be a handsome male lead well into his dotage, but there are fewer chances for beautiful female lead actresses to follow suit, and that's when they start appearing as cranky best-friends, colorful mothers-in-law or eccentric grannies.
The question is, do we populate our list with cast-iron A-listers like Dame Maggie Smith or Julie Walters, or do we look behind them (and slightly to the left), to the women who may not have been asked to play Juliet, but are always there to pick up the pieces when all the drama is over?
In the end, we opted for a firm yes to all of the above. And then started fretting about having somehow left out Dame Judi Dench, Dame Helen Mirren, Prunella Scales, Sue Johnston, Jennifer Ehle, Juliet Stevenson, Miriam Margolyes, June Whitfield, Francesca Annis, Judy Parfitt, Frances de la Tour, Victoria Wood, Billie Whitelaw, Lesley Manville or Marianne Jean-Baptiste.
So, let's agree to start from a basic position of delight at all British actresses ever, with special mentions for these ten, the appearance of any one of whom can cause a collective sigh of relief from a wary audience. Don't worry about the film, everything is going to be all right.
Dame Maggie Smith
http://www.youtube.com/watch?v=TVMtffzbAwk
Representing all the theatrical dames we had no space for (a constituency that includes everyone from Dame Joan Plowright to Dame Sybil Thorndyke), Dame Maggie's job is simple, she's cranky matriarch who can cut you down with one lash of her tongue. Whether she does this in a Scottish accent (see the Harry Potter films) or English (Downton Abbey), what she delivers is the full force of centuries of regal bearing in one concentrated wit bullet. It's brutal, but exhilarating:
Kathy Burke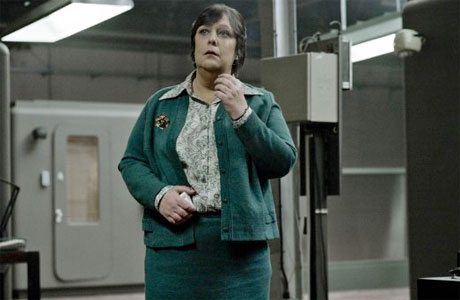 Although she appears to have given acting the swerve these days, in favor of directing, there are still times when Kathy – known best to British TV fans through her appearances in Harry Enfield's sketch shows – can be coaxed in front of a camera. She was in Tinker Tailor Soldier Spy last year, more than holding her own against a bewilderment of British male acting talent as Connie, former Russia analyst for MI5, and the one character to express some kind of warmth admid all the paranoia and backstabbing. Coincidentally (note: not coincidentally), she was the only agent given screen time who is female and not simply there as a scrap of meat for the wolves to fight over. If, as some critics have stated, Tinker Tailer is a film about the cold jostle of men working together, Kathy's job as Connie was to hint at other ways of being.
Olivia Colman
No one plays 'nice' the way Olivia Colman does. Blessed with a fundamentally cheery face and a friendly smile, she's made her name playing characters that often have no edge to them, no partly-hidden darkness, like the loyal, capable Sally in Twenty Twelve. But the key to these characters is the audience can see what it costs them to continually put other people's needs before their own. And when those people turn out to be monstrous – as they are in Tyrannosaur (above) – the effect of being nice can be devastating.
Alison Steadman
http://www.youtube.com/watch?v=wyFx315CKUA
Like Olivia, Alison's career has taken in both theatrical extremes, the comedy and the tragedy. From the early peaks of Abigail's Party and Nuts In May (both Mike Leigh productions for TV) to the more recent and equally peaky peaks of Gavin and Stacey, Pride and Prejudice and Fanny Hill, she excels at playing naturally warm chatterbox women, whether they use their gifts for good (Pamela in Gavin and Stacey) or evil (the attention-seeking snob Beverley in Abigail's Party). It's rare that an Alison Steadman character fails to speak her mind.
Brenda Blethyn
Another graduate of the Mike Leigh school of realistic movie acting (and like most of the women who are not Dames on this list, an OBE), Brenda's film credits include A River Runs Through It (for which she auditioned at the personal invictation of Robert Redford), Secrets and Lies, Girl's Night (in which she played Julie Walters' sister) and even Beyond The Sea, in which she played Bobby Darin's mum. More commonly associated with put-upon women, her most startling role to date must be that of Mari in Little Voice, the selfish mum who fails to appreciate her daughter's special needs, even when she turns out to have an extraordinary talent.
Julie Walters
Talk of the devil. Julie may just be the most extravagently talented actress on this list, if only because of her startling ability to play seemingly any role, from leading lady (Educating Rita), to far older, more grotesque characters (Mrs Overall in Victoria Wood's bad soap opera spoof Acorn Antiques). And like Olivia, she's equally at home delivering the laughs in sketch shows as she is reducing her audience to mush with more emotional roles, like the real life Mo Mowlam (former secretary of state for Northern Ireland, who Julie played in 2010). And then there's this, the most satisfying moment in all eight of the Harry Potter movies:
And while we're on Harry Potter:
Imelda Staunton
It's hard to think of anyone better suited to play the officious, callous Dolores Umbridge than Imelda Staunton. She so often excels at playing no-nonsense, muscular women who refuse to let sentimentality cloud their actions: the butch cook in Nanny McPhee, the warning maid in Shakespeare In Love, the kindly backroom abortionist in Vera Drake. You could build an empire on such women, and indeed the British did.
Penelope Wilton
Another actress who excels at playing mouselike women who occasionally roar. Penelope is probably most familiar to American fans as either the sadly-deceased Harriet Jones MP in Doctor Who, or the mum who doesn't want to make a fuss, in Shaun of the Dead. There again, it could be one of her roles in Downton Abbey, Cry Freedom, The History Boys or Calendar Girls that sticks in the mind. Suffice to say, Penelope Wilton, we know who you are.
Celia Imrie
Our fourth sketch-comedy veteran, although the first to train as a ballerina. The classic Celia Imrie character has the regal potential of a Maggie Smith (and probably went to a similar school) but without any of that helpful self-confidence. She's often to be found among a gang of people to which she doesn't quite belong, and who simply take advantage of her amiable nature, or find her twittering to be a mild irritation (Calender Girls, Dinnerladies). There again, she was also the astonishingly mean widow in Nanny McPhee. Oh, and she's in Star Wars: The Phantom Menace.
Jane Horrocks
The Horrocks career is a hard one to summarise. She tends to play extremes, whether it's the scabrous and suffering Nicola in Life Is Sweet, the introverted LV in Little Voice or the preposterously dim Bubble in Absolutely Fabulous. Along the way she has appeared in children's TV – Fifi and the Flowertots, Phineas and Ferb – adult animations – The Corpse Bride – and more serious stuff – she's appeared in docudramas about both Gracie Fields and Coronation Street. But even in her wildest moments, she's always the Lancashire girl with her feet on the ground and her eyes full of stars.
And as a final treat, here's a bunch of them working together:
Read More
Filed Under: