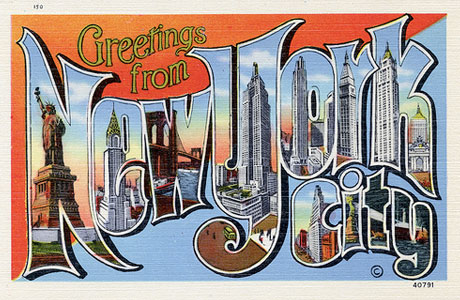 What? They're are all great, OK? We didn't just use the word because it's a pun on Great Britain or anything. I'm actually standing here before you, hand on heart, and saying these songs by Hello, Thom Yorke, Sting and the Libertines are all of equal worth, and they're all, to a greater or lesser degree, about New York.
"Fairytale Of New York" is the best, though.
1: "Piazza, New York Catcher" – Belle and Sebastian
The most Belle and Sebastianny Belle and Sebastian song on their super-shiny pop album Dear Catastrophe Waitress, being a typically vinegary would-be travelogue of a relationship, set to nothing but a folky strum.
2: "New York" – Sex Pistols
(Note: NSFW, and a smidge insensitive on both race and sexuality fronts)
Yeah, shut up, the New York Dolls, you're all past-it and stuff, in your makeup and girly clothes. We, the Sex Pistols, are the coming storm, the new thing, the hot boys, the fresh sound, and who are you? Nuffink. PUNK ROCK 4 EVA etc.
3: "The Boy Looked At Johnny" – The Libertines
Written as a finger poke at former Libertine Johnny Borrell, who went on to become the Patti Smith besotted lead singer of Razorlight, "The Boy Looked At Johnny" takes down a peg the snot-nosed from Blighty, dreaming of poetic success on the scuzzy streets of old New York. 'What's wrong with the scuzzy streets of old London town?' they ask, and then do the Lambeth Walk across the pub tables. He doesn't reply.
4: "New York" – Paloma Faith
Note: When Paloma says he left her for another lady, and that she's called New York, she's not really talking about a lady. *nosetapwink*
5: "New York Groove" – Hello
http://www.youtube.com/watch?v=Vbz279xHiLE
Yesyesyes, so Ace Frehley of Kiss did a cover version of "New York Groove," and it must have outsold the original by a fair amount. But Hello did it first, although they didn't write it either, that was Russ Ballard of Argent, but he was British too, so it still counts.
6: "New York Mining Disaster 1941" – The Bee Gees
There was no New York mining disaster, and if there was, it didn't take place in 1941. There was, however, a mining disaster in Aberfan, Wales, on  October 21, 1966. 144 people were killed, 116 of them children, when the coal mine's waste tip collapsed. The location in the song was changed to preserve the feelings of the families, although they would hardly have been reassured at any mournful ballad, especially one about a mine collapse. It's not the first time the city has taken the blame for events that happened elsewhere, mind.
7: "And It Rained All Night" – Thom Yorke
I was once trapped in a storm like this outside the Lincoln Center. It wasn't even a metaphor for a world going to the dogs. There were moments when it wasn't clear if the water was coming down or going up.
8: "Englishman In New York" – Sting
This might be personal taste, but I always found the sentiment of this song to be a little, what, snooty? Superior? Mind you, if it is, that does at least conform to our national stereotype abroad. However, no Englishman likes their toast done on one side, that's just mad.
9: "Fairytale of New York" – The Pogues
Without going too heavily over our standard caveat about the Pogues being a London Irish band as much as they are an Irish band, the reason this tune makes the cut is twofold. One, being a London Irish band is not that far away from being a New York Irish band. The influence of the past is exaggerated because it's no longer all around. And two, it's a rare treat (meaning hard to find AND bloody in the middle).
10: "New York Skiffle" – Half Man Half Biscuit
Come on, what's not to love about a bit of withering bluegrass (which the Brits adopted and called skiffle) that boasts the anti-cool chorus "does your heroin lose its glamour on the washboard overnight?" OK, so you'd need to know that's a pun on the Lonnie Donegan skiffle hit "Does Your Chewing Gum Lose Its Flavor On The Bedpost Overnight" and you'd probably need to be a reader of the British music press, to know quite how much admiration they occasionally heap upon the hard-drug abusing rockers of the Big Apple, but still.
What's your favorite British ode to New York? Tell us here, and be sure to mark your comments "OMG I CAN'T BELIEVE YOU MISSED OUT "BIG APPLE" by KAJAGOOGOO"
Read More
Filed Under: