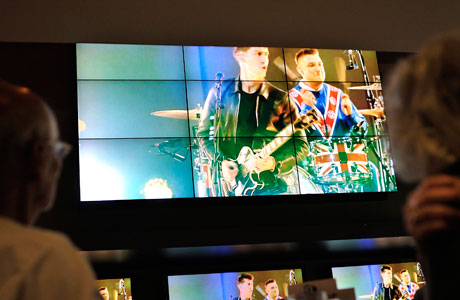 Having effectively blown cynics away with the opening ceremony (or at the very least shushed them up for a week or so), the organisers of the London Games have something of a hill to climb in coming up with an appropriate ending. They'll need something which once again celebrates all that is British, including the athletes who've given their all, and something which feels like the climax of an enormously emotional party.
Luckily, we have the perfect soundtrack to draw from: all of British pop music ever.
So far, the performers who can't keep from letting slip that they will be involved include George Michael (who tweeted that he's rehearsing this week, ready for Sunday's all-star event), and Ed Sheeran, who appears to be a one-man rumor machine about the various top notch rockers he'll be collaborating with. Already we've had gossip suggesting that he'll be appearing with the Who, and singing "Wish You Were Here" with Pink Floyd. The Floyd were quick to scotch that last thought, however.
Oh and today there was a momentary hot fuss when the website Slicing Up Eyeballs noticed that a remix of Kate Bush's "Running Up That Hill" had been put on the release schedules for Sunday, not traditionally a day to release new music. It has since been taken down, so of course the rumor mill is now grinding away like billy-o. Will Kate be on hand to sing the song herself? Only one way to find out…
Also strongly rumored to be making an appearance are Take That (with Robbie Williams), although the heat has died down slightly on this idea, and rightly so, since the sad news broke that bandleader Gary Barlow and his wife Dawn have lost their baby Poppy, who was delivered stillborn earlier this week. Reality somehow seems a lot more important, all of a sudden.
The most persistent rumor of all is that the Spice Girls will be reforming. This was a hot topic months ago, and will probably continue to be so right up until the last firework is fading from the sky (or, y'know, the Spice Girls reform). And I'd be amazed if Elbow or Muse didn't at least do SOMETHING.
It is curious to think that the grand finale of all of this running and jumping and throwing stuff – apart from the 'Best of British' concert in Hyde Park, featuring the Specials, New Order and Blur – could be anything within a boundary marked out by Pink Floyd and the Spice Girls, although one band it definitely won't be is the Smiths. Morrissey has taken to his fan club newsletter to decry the whole olympic shebang as a thinly-veiled advert for the Royal Family.
So long as we don't end with "Hey Jude" again, everything is going to be just fine.
Read More
Filed Under: