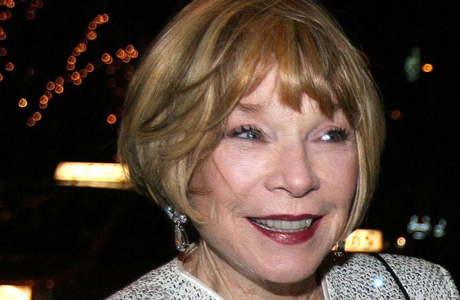 Shirley MacLaine is at it again. The irrepressible veteran star, who arrives at Downton Abbey for the Emmy-winning drama's third season, is stirring up waves with a no-holds barred interview she gave to a British newspaper last week.
The Oscar-winning actress spoke to The Guardian's Emma Brockes to promote – in between bites on peanut butter-smeared crackers at her place in Malibu – Downton's third season, which begins airing in the UK next month. (Mark Jan. 6 in your calendar for its stateside premiere on PBS.)
The interview was widely picked up by other British media, which zeroed in on MacLaine dissing Lindsay Lohan. She said the troubled young actress was talented but suffered "too much damage as a child" and went on to harrumph, "…anyone who wants to be more famous than anything – that's a problem."
We here at Anglophenia, however, were more taken with the insider tidbits that MacLaine spilled about Downton, in which she'll be playing effusive Martha Levinson, the mother of American-born Lady Cora Crawley (Elizabeth McGovern).
MacLaine, 78, described her character as "more emotionally democratic than the English. She goes over there to say, 'Rethink your attitudes about tradition!'"
She said one of her favorite days on the set was a long one she spent in the company of her old friend, Dame Maggie Smith – they've known each other for four decades – while a wedding scene was being filmed. (Sensing a major Downton plot scoop, the Guardian's reporter asked who was getting married. MacLaine claimed not to remember.)
Over the seven hours of filming, MacLaine and Smith, who plays the Dowager Countess, had a cozy chat, discussing men, health and hair.
"We talked about if we want a man in our lives again," she said. The answer? "Put it this way: if a good-looking, elderly man had walked in just then… we would have still stayed there talking."
Proving she has picked up a Briticism or two, the actress described her fellow cast members as "gobsmacked" by the show's popularity and their sudden fame, and said she found them too polite to quiz her about her Hollywood salad days.
"They wanted to hear about Frank [Sinatra] and they wanted to hear about all my love affairs and Billy Wilder and all of that. But they never asked," she said.
During a discussion of class differences, MacLaine was reminded that Downton's Lady Sybil (Jessica Brown Findlay) had wed the family's chauffer (Allen Leech).
"One of my best love affairs was with my driver," MacLaine volunteered, but said that the romance didn't last. "He was too intimidated by my fame. I don't know how any guy could have put up with me, really. Honestly."
If MacLaine can get even a little of that sass onto the screen in Season 3, we fans are in for a heck of a ride.
————————————–
If you had to bet money on a smack-down, would you back MacLaine's Martha Levinson or Smith's Dowager Countess?
————————————–
Read More
Filed Under: