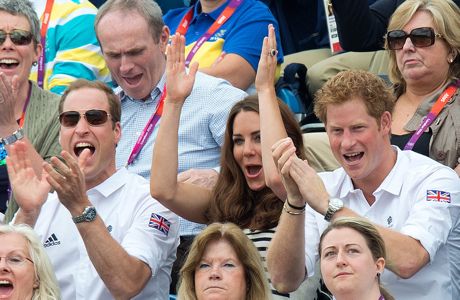 The royals have been sprinting around Olympic events faster than Usain Bolt.
"Prince William, Kate Middleton and Prince Harry have been tirelessly shuttling around town to support Team GB's athletes," writes E! Online, "going everywhere from land to sea in an impressive display of morale-boosting!"
The magazine asked: "Can someone please give these young royals an Olympic MVP award already?"
Of course, last week, most of the family turned out to watch Zara Phillips get her equestrian medal.
And if it's Tuesday, as it was yesterday, it must be the Velodrome, where Harry was joined by Princess Anne and Princesses Beatrice and Eugenie to watch cycling.
Kate wasn't there, however, taking yesterday off, as did her husband, who is apparently now back at his search and rescue job in Anglesey. But that's okay, it's all really a kind of royal relay. On Monday, Kate put wind in Britain's sailing team. Sunday, she watched gymnastics.
William, Kate and Harry, explained royal spokesman Miguel Head, "have attended a number of events jointly and a number of events on their own. They were more interested in covering as much ground as possible between them across the very successful GB team than they were in attending events together."
More royal-related news about the Olympics:
• At the end of last week, Princes William and Harry did a joint interview at the BBC's Olympic Park studio.
"The support of the British public is something else," Harry said. "The buzz… is astonishing."
The brothers spoke of being "very proud" of their cousin Zara Phillips, and William said her winning the medal was the most emotional part of the Games for him.
William also spoke of another emotion that gripped him during the cycling competition: fear. The future King of England was terrified of the Kiss Cam.
"I was absolutely dreading they were going to come and show myself and my wife and that would have been very embarrassing."
Both William and Harry also said they were "in the dark" about their grandmother's new role as a Bond girl in the Olympic opening ceremony.
"She did such a good performance that she has now been asked to star in the next Bond film," William joked. "What she does in her spare time is her spare time …"
• The Australian Herald Sun hyped up a story about the Duchess of Cambridge watching gymnastics on Sunday with the headline, "Gymnast Kristian Thomas tells of date with Kate Middleton." Thomas was watching his fellow teammates compete when a security guard told him that the Duchess, according to the paper, "wanted to hang out."
"It was fantastic," Thomas said. "She was really easy to talk to. We talked about the pommel final and some of the elements and what's good and what's bad. She was quite enthusiastic about it."
• The Daily Beast's Royalist pointed out some royal family politics. Tom Sykes noted that Sarah Ferguson had "controversially" accompanied her daughters Beatrice and Eugenie to the historic cycling competition yesterday. Since Harry was also there, it was, noted Sykes Fergie's "first outing in the presence of a senior royal since she was snubbed and not invited to the Royal Wedding or the official Jubilee celebrations."
Sykes said that the appearance was not a sign of "détente" – Ferguson, you'll remember, bragged that she could provide royal access to a reporter for cash.
"It was noticeable," writes Sykes, "that she was seated as far away from Harry as possible, and far enough to avoid the two being photographed together."
• In case you missed it with all the Olympics hoopla, the Queen hosted the last official Diamond Jubilee event yesterday. It was a garden party at Balmoral, and BBC News reports that it's the first time that a garden party has been held there since the Queen's Golden Jubilee in 2002.
Read More
Filed Under: