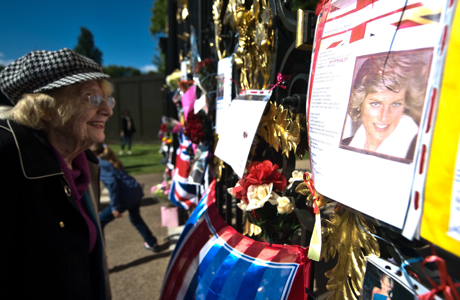 Today is the 15th anniversary of Princess Diana's death, and well-wishers are marking the occasion at various sites associated with the princess, who was killed in a car crash in Paris in 1997 at the age of 36.
Flowers, notes and other mementos are gracing the gates of Kensington Palace, Diana's former residence, now the home of her sons Princes William and Harry.
"The messages and floral tributes were a poignant reminder of the scenes at Kensington Palace in the days following her death in 1997, when a sea of bouquets grew rapidly outside the wrought iron gates," writes the Daily Mail.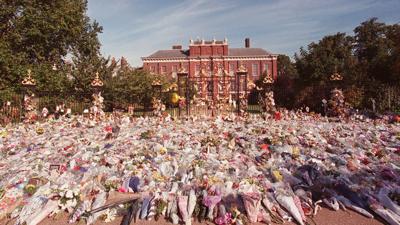 William and Harry, the paper reports, are not expected to be seen in public today, and there are no official ceremonies planned.
In Paris today, visitors have been have been paying their respects near the site of the crash itself, leaving photos and messages at the Flame of Liberty statue, a replica of the Statue of Liberty's flame, which is located above the overpass where the accident occurred.
People have been making pilgrimages all week to the Diana memorial fountain in Hyde Park.
"It was one of those moments like the New York attacks, it is one of those things like the death of JFK, you will always remember where you were and what you were doing," Stephanie Cooper, a tourist from Billericay in Essex visiting the fountain, told AFP.
In other news about the 15th anniversary of Diana's death:
• Prince William will be honoring his mother's memory next month by taking a trip that she had planned before her death but never took. Singapore Botanic Gardens named a species of orchid after Diana in 1997 and had hoped to present it to her. Now, when William and Kate visit Singapore as part of an eight-day Diamond Jubilee tour in the region, they will be presented with Diana's orchid – as well as two orchids named after them. (via The Telegraph)
• It is perhaps fitting for a Princess who broke so many conventions that there is one unconventional place where her fans congregate – in a café named after her.
"For the last anniversary we had many people come here specially to remember Diana from Germany, France, all across Europe, and from America," said Fouad Fattah, the manager of Café Diana. "Some people cry as they see her photographs and talk about her."
Fattah named his Bayswater café after Diana in 1988 when he saw her walk by one morning with her two sons.
Later, Diana herself stopped by the café.
"She asked why I had named it Café Diana to be sure it was named after her," Fattah told MSNBC, "because she thought it could be named after my mother or my wife."
The two struck up a friendship, and Diana stopped by regularly, even bringing William and Harry there for pre-Christmas dinners.
Fattah is putting out candles and flowers in honor of the anniversary.
• There is probably no way to overestimate the impact Diana had on the popular perception of the modern monarchy, both in life and in death.
As many observers look at her legacy, Stephen McGinty, writing in the Scotsman, points out the "most obvious": her sons, William and Harry.
But McGinty and others also observe that Diana's charity work was a cultural game changer.
"Few would disagree with the idea that it was Diana who helped lift the stigma once associated with AIDS victims," writes McGinty. "By visiting hospitals and hospices and being photographed holding the hands of AIDS sufferers, she helped change public perceptions about how the disease can be transmitted and lifted the status of sufferers from that of modern-day lepers."
And AIDS was just one of many issues she took on.
"The image of her in white shirt, beige trousers and brown leather loafers wearing a plastic vizor and metal bomb proof breast plate while standing in a minefield in Angola did more to highlight the issue of landmines than any previous campaign," says McGinty.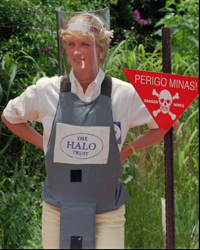 Or, as the Express put it: "Thanks largely to Diana, one million landmines which could have killed or maimed were cleared and Prince Harry has since picked up the baton."
The Express estimates that Diana was involved in more than 200 charities, and while her impact on those specific charities in undeniable, she played an even more important role in the raising the profile of celebrity activism and the place of the royals as patrons.
"Diana's impact on charity is probably more significant than any other person's in the 20th century," said Stephen Lee, director of the UK Institute of Charity Fundraising Managers.
• One legacy of Diana's death was its impact on the way the media covers the royal family. That's a subject that CBS This Morning looked at today:
• Then there's the fashion legacy. Just as Kate Middleton's clothes are endlessly analyzed today, so were Diana's. Her wedding dress is still discussed today, as is what she wore both before and after her divorce from Prince Charles.
"Though Diana's looks were always elegant," writes the Today show's The Look, "they were cutting-edge enough to embrace trends that today's woman is still happy to wear."
• There are some observers, however, who believe that Diana's legacy is not being recognized enough, especially by the royal family itself.
"This is the moment when Diana starts to slip away into history, the tipping point after which the public's experiences of her as a living Princess will be outweighed by the time without her," writes columnist Charlotte Germane in The Morton Report.
Germane says that current royals are engaged in a "campaign to minimize her in her country's history," and she terms it "shameful." Commemorations and even images of Diana, she argues, have been completely absent during official observances of the Diamond Jubilee.
Germane says that the only significant public royal recognitions of the princess have come from her two sons, both of whom "are taking up her special causes."
• Two feature films are being made about Diana. The first, scheduled to be released next February, features Naomi Watts as the princess and reportedly focuses on the last two years of her life and her romance with heart surgeon Dr. Hasnat Khan (who is being portrayed by Naveen Andrews from Lost.)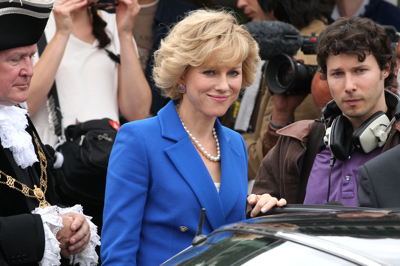 While shooting a scene in which Diana is besieged by paparazzi in London, Watts recently found herself, "in a case of life imitating art," wrote the New York Daily News, "caught on camera by real photographers staking out the set."
A second film, based on a book by one of Diana's former bodyguards and produced by The Iron Lady's Stephen Evans, is supposed to start filming next year.
Read More
Filed Under: