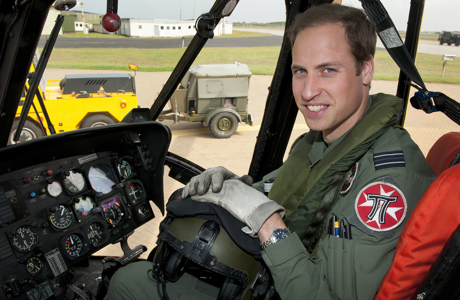 Prince William has saved a 16-year-old girl from drowning in the sea waters off North Anglesey.
The RAF praised the operation as one of its "fastest and shortest" – William's team took just 38 seconds to arrive on the scene at Silver Bay.
The teenager was carried off by a strong riptide as she was trying to help her 13-year-old sister who was caught in the same currents.
While the younger girl was saved by a surfer, the older one was pulled out further and into a rocky area where she was struggling with choppy water.
"The prompt response may well have saved this girl's life," said a local coast guard watch manager, according to the Daily Mail.
It's not the first time that William has played an active role in an actual rescue mission. Last November, William was part of a team that pulled two Russian sailors out the Irish Sea in a challenging nighttime rescue by RAF Sea King helicopters.
In other royal related news:
• BBC News is reporting that an RAF helicopter was originally dispatched to take the Duke of Edinburgh from Balmoral Castle to Aberdeen Royal Infirmary on Wednesday, but heavy rain and harsh weather conditions prevented the craft from landing.
An ambulance drove Prince Philip the roughly 50-mile distance instead.
The prince has spent his third night in the hospital after doctors diagnosed a recurrence of the bladder infection he was treated for in June.
According to Wales Online Philip is "said to be responding well to treatment" and is expected to remain in the hospital for several more days.
The Prince, reported BBC News, "did not have any visitors on Friday after doctors advised him to rest, but his family are said to have been in contact by phone."
• And, finally, a bit of celebrity sociology – sociology from a celebrity, that is.
"America really wants to have a royal family," said Robert Pattinson at a discussion in New York City about his new movie, Cosmopolis. "Fame is valued disproportionately highly in America," said the 26-year-old British actor, suggesting that Americans would love to have their own royalty onto whom they could project their interest in celebrity. (The Wall Street Journal)
Read More
Filed Under: