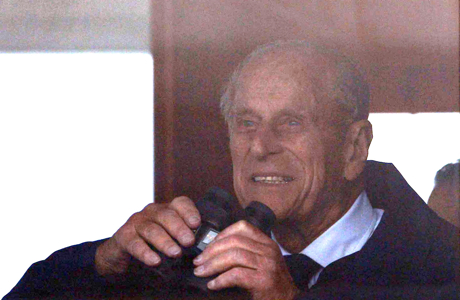 Prince Philip is back in the hospital where he is likely to remain for several days as "a precautionary measure," says Buckingham Palace.
"The Duke of Edinburgh has had a recurrence of the bladder infection that he had in the summer, and has been admitted to hospital for investigation and treatment," said a statement released by the palace.
The 91-year-old Prince was driven by ambulance yesterday to Aberdeen Royal Infirmary from the Queen's Balmoral estate, where he has been staying.
Even though he insisted last year that "he was sort of winding down," Philip has maintained an active schedule this year, says BBC royal correspondent Peter Hunt.
"Last week he was in a jovial mood at a garden party at Balmoral, and at the start of this week, he attended the Cowes Regatta on the Isle of Wight," says Hunt.
One resident of the Isle of Wight, Michael Dunkason, says he saw the Duke Wednesday morning as he came off a boat at Cowes and that he was "steadily walking up the steps and walked briskly along the jetty."
Dunkason told BBC News: "The duke seemed in very good spirits and gave a final wave before entering the car."
Peter Hunt reported that it "was after he returned to the Highlands that the prince began to feel unwell."
Hunt also reports that Prince Charles and Camilla are at the Birkhall residence at Balmoral and that the Earl and Countess of Wessex are staying at Balmoral with the Queen.
In addition to his hospitalization for a bladder infection in June, Philip also spent five days in the hospital last December, when he wasfitted with a coronary stent to treat blocked artery.
Read More
Filed Under: