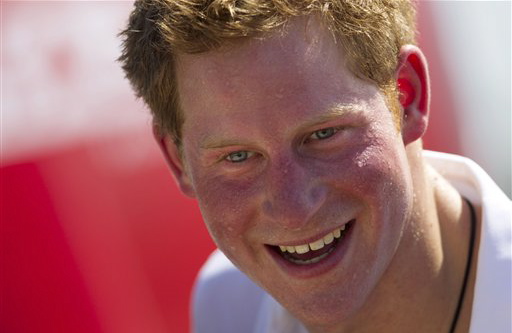 One cell phone may have effectively undone months of positive media reports about how Prince Harry has matured and shed his youthful image as a privileged playboy.
Or not.
The publication of photographs of a naked Harry playing "strip billiards" in a Las Vegas hotel room is once again focusing attention on the wild side of the 27-year-old prince.
But the incident is already about more than just Harry, the third in line to the throne. For one thing, it has ignited a debate over media practices in the digital age.
The American gossip site TMZ published the photos, which it said were taken last Friday night. One shows a naked Harry covering his genitals, while a woman, apparently also without clothes, stands behind him. The second photo shows Harry from behind, as he is closely covering a naked woman, who has her back to him.
St. James's Palace: Privacy Concerns
In neither photo is Harry directly facing the camera, but St. James's Palace confirmed yesterday that the pictures were indeed of the prince. The palace also contacted Britain's Press Complaints Commission, according to BBC News, "because it had concerns about his privacy being intruded upon, in breach of the editors' code of practice."
So far, almost all UK papers have refrained from publishing the photos. One exception has been the Rupert Murdoch-owned tabloid, The Sun, which ran one of the photos on its front page today. Papers in the U.S. and Europe have also run the photos, and they are, of course, easily available on the Internet.
The Guardian wrote that "the publication of the photographs marks a new level of media intrusion into the lives of the royal family."
However, some British editors have argued that media outlets should have run the photos but have caved in to fear after the phone hacking scandals that led to the creation of the Leveson Commission, a government inquiry into media practices.
Editor: Media is 'Neutered'
Neil Wallis, a former executive editor of News of the World, a Murdoch tabloid that was shut down as a result of the phone hacking scandals, said that newspapers have been "neutered" by self-censorship.
"The situation is fun, it's a good, classic newspaper situation," he said of the current photos on BBC Two's Newsnight. "The problem is, in this post-Leveson era where newspapers are simply terrified of their own shadow, they daren't do things that most of the country, if they saw it in the newspaper, would think 'that's a bit of a laugh.' There would be no harm done, and they would not think any worse of either the paper or of Prince Harry."
Broadcaster: Not Printing the Photos is a 'Moral Awakening'
Speaking to the same show, broadcast interviewer Vanessa Feltz, who claims she was a target of phone hacking, said that the press restraint was "some kind of moral awakening."
Harry, she said, is "a young fellow, he's not married, he's not on state business, he's not representing the Queen, and any editor who says it's of no interest to anyone is quite right."
But some editors argue that the photos have a legitimate news value, and many others said Britain's approach to protecting privacy is outmoded in the age of the Internet.
In a tweet, former News of the World staffer Jules Stenson asked, "How can press not run Harry pix when all over the net?"
Security and Blackmail Risks
Stenson further said that the photos represented security risks to Harry, and they demonstrate that he could also be vulnerable to blackmail. "Public interest in their exposure," he tweeted.
Jen Chaney of the Washington Post's Celibritology blog also wondered about security issues and asked: "Why didn't the prince's protection team confiscate cellphones from everyone present so that no one could take pictures like that?"
Like many others, Chaney also says it's "sobering" to remember the role that invasion of privacy played in the death of Harry's mother, Princess Diana.
"It is incredibly unfortunate," she writes, "that the boy who lost his mother because of relentless photo snappers is, as he has been before, now a man who is frequently, aggressively snapped himself. But it's also the same reason that at this stage, Prince Harry should know better than to tempt tabloid fate."
Harriet Walker, in an opinion piece in The Independent, places the blame more emphatically on Harry: "Why should we respect his position and his privacy, when he clearly doesn't respect it himself?"
Whither Harry?
The fallout for Prince Harry is unclear. Most observers appear to agree with The New York Times' speculation that he is "certain to face a family rebuke for slipping back into unprincely ways."
But tabloid editor Neil Wallis may be right when he says that most people will just give it all "a bit of a laugh." Most anecdotal press reports bear him out.
According to The New York Times, the verdict on Harry from random interviews with Londoners was "mostly thumbs up."
"I think it's quite funny," John Daniels, 46, a hedge fund manager, told the Times. "I'm sure most people would like to be doing exactly the same thing, especially in Vegas. This is his own private time and people shouldn't be taking photographs of him."
When the Associated Press asked Jim Conlon whether he thought Harry had done anything wrong,  the 60-year-old construction worker "seemed genuinely offended by the very question," wrote the AP.
"I'd be proud of him if he were my son," Conlon said.
There are some people who suggest that Harry's antics are part of his charm. His rakish foibles are, they say, exactly what make him appear less distant and more like a regular guy.
"Of course it's stupid, but it doesn't make people dislike him – quite the opposite," says Ingrid Seward, editor-in-chief of Majesty magazine. "It shows that he is a guy who gets into trouble, and he's the one people love to love. It could only happen to Harry – but we love him for it."
Read More
Filed Under: