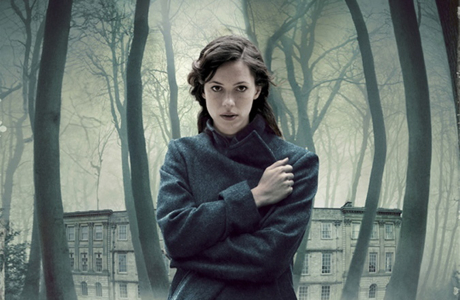 Rising British-American actress Rebecca Hall (The Town) will get to test her star power this weekend when The Awakening opens in U.S. theaters. The British film is the first in her career to rest squarely on her elegant shoulders.
A psychological horror story, The Awakening is set in post-World War I England and features Hall as a young woman who specializes in debunking ghost sightings and other alleged supernatural phenomena. Her character is hired to investigate the spooky goings-on at a remote boys boarding school – the film was mostly shot on location in Scotland – but the ghostbuster soon finds herself haunted by ghosts from her own past. Dominic West (from BBC AMERICA's The Hour) and Imelda Staunton co-star in the movie.
The filmmakers are obviously hoping that Awakening will duplicate the success of last winter's The Woman in Black. That British film, which starred Daniel Radcliffe and was set in the early 1900s, grossed $128 million worldwide, according to Box Office Mojo.com.
The Awakening, with its period settings and costumes and emphasis on scares rather than gore, is in the tradition of earlier notable thoughtful horror films set in the England of days gone by, including The Innocents (1961), which starred Deborah Kerr, and The Others (2001), with Nicole Kidman.
The movie received encouraging albeit mixed reviews when it played in the U.K. last November.  The Guardian called it "creepy" but "contrived." The Observer wrote that the "movie is best when in sceptical mode," but added that it "goes astray when it essays a kind of tragic poetry." Calling it "a beautifully mounted ghost story," The Telegraph was more positive, saying that the film will "make the back of your neck tingle with the caliber of its performances as well as its jumps and jolts."
Hall is the daughter of eminent British theater director Sir Peter Hall and American opera star Maria Ewing. The 30-year-old actress first gained notice with strong supporting turns in the 2006 films Starter for Ten and The Prestige and her enchanting ensemble work in Vicky Cristina Barcelona (2008) and Please Give (2010). She has also built a noteworthy stage and television career; the latter includes starring roles in Wide Sargasso Sea (2006), Red Riding (2009) and the forthcoming BBC-HBO mini-series, Parade's End, which co-stars Benedict Cumberbatch.
More recently, the actress has been in the news for her romantic relationship with director Sam Mendes (whose James Bond film, Skyfall, opens November 9). The two first worked together when he produced Starter for Ten, and he later directed Hall on stage in plays by Shakespeare and Chekhov in 2009.
—————————————–
Do you want to see The Awakening?
—————————————–
Read More
Filed Under: