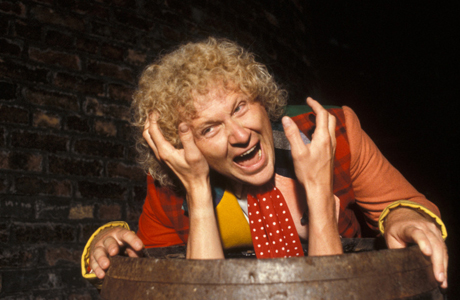 In the world of Doctor Who superfans, 32-year-old Sebastian J. Brook would sit somewhere in the top one percent. He currently reigns as editor of Doctor Who Online, which he began as a mere 16-year-old fan in Surrey, England. Flash forward 16 years, and the site is one of the premier Whovian destinations on the web, boasting more than 30,000 daily visitors and 39,000 followers to the @DrWhoOnline handle. With BBC AMERICA running its #newtoWHO hashtag campaign, we reached out to Sebastian for his earliest Doctor Who memories and advice for curious fans who want an introduction to the long-running series.
1. Who introduced you to the show?

I actually found it all by myself when I was six after watching an episode of Roland Rat. I was hooked from the very beginning, and recall it being cold and dark outside. The perfect Doctor Who viewing environment.
2. What was your first episode, and what about the show grabbed you?
My first episode was a Sixth Doctor story called "The Ultimate Foe," which also happened to be Colin Baker's last-ever episode. I was grabbed by a scene where the Doctor is pulled into a pit of hands and taken underground. As a six-year-old, it was mesmerizing!
3. If curious viewers wanted an introduction to Doctor Who, which episode would you suggest they start with and why?
Well if they are open to trying out the classic series, then why not begin at the very beginning with "An Unearthly Child;" it sets up the whole show perfectly, and the first time-traveling adventure is incredibly well-written, directed and acted for its time. For the new series, I would recommend "The Shakespeare Code," by the rather fantastic Gareth Roberts (@OldRoberts953). It's a wonderful use of time travel, cleverly written, and is a great stepping-on point for new fans.
Read More
Filed Under: