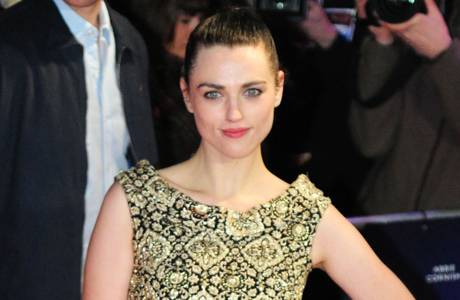 UPDATED: Katie has released a statement thanking her fans: "I am thrilled and honored to have been named BBC America's Anglo Fan Favorites, Woman of 2012. It is humbling to even be considered, thank you so much to everyone who voted for me."
All hail the new Queen! Katie McGrath, the Irish-born actress who plays Morgana on the hit fantasy series Merlin, has won the title Woman of 2012 in the the second annual Anglo Fan Favorites tournament. And she grabbed this crown by the skin of her pearly white teeth, defeating last year's champion Helena Bonham Carter by a stunning 110-vote margin.
Vote totals remained close between McGrath and Bonham Carter during the week-long final matchup, with leads shifting. Still, a betting person would have banked on an HBC-peat, as she looked to be maintaining a slim but steady margin earlier this week. In the end, McGrath received 50.19 percent of the vote to Bonham Carter's 49.81 percent. This was a much tighter victory than Tom Hiddleston's 57-43 win over Benedict Cumberbatch in the men's tournament back in July.
For Helena Bonham Carter, a silver medal is hardly a disappointment, as it demonstrated her continued fan support over a year after the final Harry Potter film lifted her profile. Meanwhile, Downton Abbey fan favorite Dame Maggie Smith once again takes the podium as our bronze medalist in a 57-43 percent win over last year's silver medalist JK Rowling.
Offer your congrats to our McGrath and our runners-up Helena Bonham Carter and Dame Maggie Smith below:
Read More
Filed Under: